Jon Michael Pinson, 58, was born in Houston, Texas on December 11, 1958 to Eddie F. Pinson and Elise Snyder.  He was surrounded by his family and dear friends during his final hours on earth.  After his battle with Cancer, he returned home to the Lord on Monday, August 21, 2017.  Jon lived life to the fullest each and every day.  He had a passion for music, guitars, the Great Outdoors, hunting, fishing, as well as a dedication and commitment to his work.  He especially loved spending time with his countless friends and family.  Jon will be remembered best for his kind and giving nature, relentless sense of humor, love of laughter, and never-ending pranks.  He was your go-to guy when you needed him most, the first one there to lend a helping hand.  He was strong in his faith and love of God.  He felt closest to Him when he was one with nature in Kerrville on the hunting lease.
Welcoming Jon into heaven are his mother, Elise Christensen; sister, Tracy Kimmel; grandparents, Dan and Louise Snyder, Jesse and Geneva Pinson; uncles Carl Dan Snyder, Jr., Mack Pinson, as well as other treasured family and friends.
Left to cherish his memory are Parents Eddie (Rosalie) Pinson of Kerrville, Tx; Kent Christensen of Yoakum, Tx;  Brothers, Steven Pinson (Camila) of  Driftwood, Tx, Paul Pinson (Sue) of San Leon, Tx, Devon Pinson of Harlingen, Tx, Ross Pinson (Katie) of San Antonio, Tx, Mark Kaigler of Crockett, Tx,  David Christensen (Courtnay) of Nacogdoches, Tx;  Sisters,  Lee-Karen Gowen (Ronnie) of Rayle, Georgia, Lynn Machamer (Jeff) of Huntsville, Alabama; Aunts, Fay Schomberg, Sharon (Ronnie) Branstetter, Judy (Charles) Roessler;  many nieces, nephews, cousins, and countless endearing, long-time friends which he also considered his family, the Jameses, the Ravey's, the Surmons, the Sausers, just to mention a few.  Jon will be greatly missed by many and will remain forever in our hearts.
Jon started making friends early in his career as a manager for the well-known local Tookie's Burgers.  Following that he worked as a boiler-maker.  He began his HVAC career in 1986, then joined Clear Creek ISD in 1988.  He started as a technician and worked his way up to a Certified TEMA Energy Manager, retiring in December 2016.  He was well-respected by his peers and loved by all, as shown by the showering of love and support during his illness.
The family would like to thank his dear friends for their unending loyalty, love, and dedication to Jon through all phases of his life. He leaves us wealthy in memories and with wonderful stories of his loving spirit and fun adventures.
Thank you also to Heart to Heart Hospice and our special Nurse Jenny Pinson for her care, love and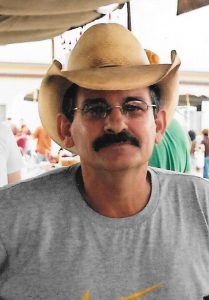 support.
Please join us as we Honor Jon's amazing Life with a Celebration of Life Service at TopWater Grill, 815 Avenue O, San Leon, TX, 77539, Saturday, September 16, 2017, at 5:30 p.m.  (281) 339-1232
In lieu of flowers, you are welcomed to make a donation to St. Mary Catholic Church, 1612 E. Walker St., League City, TX 77573, to the American Institute for Cancer Research, PO Box 97167, Washington, DC, 20090-7167, or a charity of your choice.