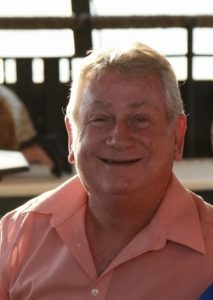 Johnny Leroy Ensign, a long-term resident of Pearland, Tx passed away on Thursday, May 4th, 2023, at the age of 76 due to heart issues. Johnny was a native Texan born in Houston, Tx on August 27th, 1946. Johnny graduated from Jesse H Jones High School in Houston, Tx in 1964.
Following high school, he attended the University of Houston for some time before enlisting in the U.S Air Force in May 1966 and served during the Vietnam war. He was stationed at Nellis Air Force base in Las Vegas, NV where he specialized as a mechanic on the F-111 aircraft and was honorably discharged at the rank of Sargent in 1969. He received a small arms expert marksmanship ribbon and a good conduct metal during his service.
During his time serving his country at Nellis Air Force base, he met his future wife, Linda Leavitt who was from Las Vegas, NV.  They went on to marry in June 1968 in Las Vegas. The couple relocated back to his hometown of Houston after serving and then shortly after that, moved to Pearland where their five children were born and raised.
Johnny had natural interests in mathematics and electrical engineering and went on to have a long career as an electrical engineer in the Oil & Gas industry working for Schlumberger for approx. 20 years.
A big part of his life was coaching his children in many different types of sports, (baseball, softball & basketball). He also had a love of carpentry throughout his life and had a rich appreciation for the art of wood carving. Johnny had a diverse love for animals throughout his life and always had pets.  His last canine companion Sasha was an important part of his life. College and professional sports were always an important part of his life, beginning as early as attending Colt 45 games in his younger years.
Johnny is survived by his five children; daughters Kimberly Sullivan, Karen Anderson, Kelli Parish; sons John & Jeffrey Ensign; stepdaughter Sarah Whitlow and her mother Catherine Park; brother Gary Ensign; sisters Jeanne Pate, Angela Davis, Terri Torregrossa; nine grandkids Connor Sullivan, Devin Elliott, Tyler Ensign, Katie Ensign, Ethan Ensign, Cameron Ensign, Regan Anderson, Madison Anderson, Gabriella Lucia; and the mother of his children Linda Ensign.
Johnny is proceeded in death by his loving parents, Frank & Lena Ensign.
A celebration of life will be announced at a later date.
In lieu of flowers, donations can be made to Wounded Warrior Project.