John William Franklin Hartley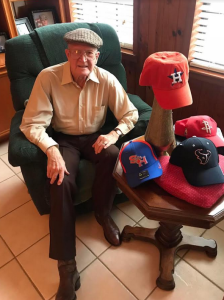 John William Franklin Hartley, 90 years young of La Marque and known by many as "Peachy," passed away on July 19, 2023, with his wife Isabel and son John Jr. by his side.  John was born on October 10, 1932 in Luray Valley, Virginia on a farm to John and Annie Hartley.  John was a resident of La Marque for 23 years.
He graduated from Shepherdstown High School, West Virginia in 1950.  He joined the United States Air Force, where he was a flight crew chief for 8 years. He had work experience in Farming, Industrial Construction, Engineering Design, Construction Management, and Truck Driving.
John was a member of The United Methodist Church in La Marque and Hitchcock for several years, where he sang in the choir.  John's favorite hobbies included singing, dancing, playing the harmonica, and watching the Texans, Rockets, and Astros play.  He loved to impersonate Donald Duck.
He is preceded in death by his parents John and Annie Hartley; his siblings: Robert Hartley, Mary Shade, and Janice Cook; and his son James Hartley.
John is survived by his wife of 41 years Isabel Hartley; his siblings: Ruth Hollar and Sallie Stolipher; his children: William Hartley (Kelly Hartley), Johnny Hartley, Jan Pilcher (Al Pilcher), Natalia Hartley, John Hartley, Jr., and Victoria Hartley; his grandchildren: Jamie Schwab, Bryan Barton, Christen Compton, Johnathan Barton, Sara Hartley, Mason Pineda, Marcus Hartley, and Mya Thomas.  He was also a great grandfather to 6 great grandchildren and one on the way.  He was loved by many nieces and nephews.
John was a well loved and respected Christian man who had friends all over the world.
A Memorial Service will be held at First United Methodist Church in Hitchcock on Monday, July 31, 2023 at 11:00 am with Rev. Michael Selzer officiating.