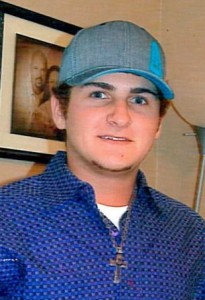 John Michael Broussard, 22, passed from this life September 5, 2015.
He was born, Oct. 3, 1992 in Galveston, Texas to parents, John & Trish Broussard. He attended Santa Fe High School. John has worked with his Dad for the past 5 years as a welder helper. He loved music, but not as much as he loved his friends and family.
John is preceded in death by his grandparents, John Wayne & Dolores Ann Broussard and grandfather, LeRoy Trahan, Jr.
He is survived by, his parents John "J.D." Broussard & Trish Trahan-Broussard,
grandmother, Rose Marie Yeatts Trahan, his sister Kaysee Marie Broussard; aunts and uncles, David Wayne Broussard, Shelley Denise Broussard Nabors & husband Thomas, Angela Marie Trahan & Glenn
Martindale, and Tonya Rene Trahan Creppon; cousins, Kaleb Trahan, Skyler Trahan, Chasity Creppon, Hailey Trahan, Joseph Trahan, Adam
Stephens, Tristen Nabors, Wesley Chenoweth, Walker and Emilee; great aunts and uncles, Bonnie Sanders, Charlotte Smith, Gladys Organ, Edith Gace, and Barney Heim.
Visitation will be Tuesday, September 8, 2015 from 5:00 to 8:00PM at Crowder Funeral Home Chapel in Dickinson, Texas. Funeral services with be held Wednesday September 9, 2015, 10:00 AM in the Chapel. Burial will follow at Crims Chapel Cemetery in Henderson, Texas.