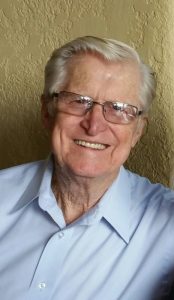 John Martin Moody, 83, was a 43-year resident of League City, TX, formerly of Louisiana, passed away December 22, 2022 in Webster, TX. John was born in Gulf Port, Mississippi, September 26, 1939. He was of the Baptist faith and worked in the Petro Chemical Industry for 40 years.  John and his wife Olga were long time members of Sagemont Church.  After his retirement, John worked part time at Sagemont, helping with room event arrangements and in many other capacities.  John was an avid bird watcher and loved to fish. John also loved children, he would get very happy to see his grandchildren and his stepdaughter's Olga granddaughter Kaylee. John love going to the beach, dancing to country music, and listening to jazz.
He leaves behind his wife of 22 years, Olga Moody; daughters: Alisa Mont, husband Doug Mount, Jennifer Johansson, husband Erik Johansson, son, Justin Moody, wife Veronica; step-daughters: Berta Watson, husband Pete, Olga Timmons, husband Tony, and Venice Boatwright; grandchildren: Kaleb Peeples, Jacob Peeples, Ashley Pyeatt, Heather Pyeatt, Sarah Pyeatt, and Johnny Moody; great grandchildren: Maddie, Ava, and Finn. sisters: Ellen Wheat, and Vicky Lynn Moody; brothers: Robert Moody, Joseph Moody and John Moody. Nieces and Nephews.
John was preceded in death by his parents Lewis Maxi Moody and Eloise Bounds Moody, sister Margaret Ann Wells, and son-in-law, Tim Boatwright.
A visitation will be held Thursday, December 29, 2022, from 1pm. to 3pm. with a service to begin at 3pm. in the chapel of Crowder Funeral Home, 1645 E Main St. League City, TX 77573.