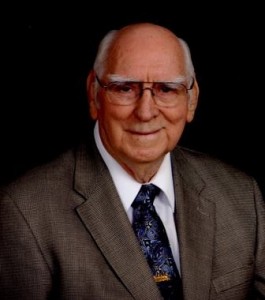 John Hartwell Caulfield
(October 24, 1925 – August 10, 2015)
John Hartwell Caulfield, a resident of Dickinson, Texas, passed peacefully at the age of 89—and even at 89 he was still "sexier than socks on a rooster." And those eyebrows… no one could flirt or raise an eyebrow better than dad.
John was a husband, dad, granddad, friend, brother and businessman… he was a quiet kind of doer. He didn't talk much about love and loyalty, or honesty and doing what was right; he didn't need to, he lived it.
Born October 24, 1925, in Gainesville, TX, he did a lot living in 89 years. Upon completion of high school in 1942 he joined the Navy at age 17. A WWII veteran he was assigned to the island of Tinian in the South Pacific and remained in the Navy for three years. Later he would receive his Mechanical Engineering Degree from Texas Tech University. In 1973, after years of building an excellent reputation and working with oil companies such as Amoco & Monsanto, John started Caulfield Engineering managing engineering, construction and maintenance for several oil refineries and chemical plants. The company was successful, as were most things he started, and John remained its president until 1983. Following 18 months in Kuwait, John and Arthur settled in Dickinson, Texas.
He loved family, travel, playing 42 with friends, antique cars, air shows, dancing, and a great game of golf with his buddies—forming the OFGA (Old Farts Golf Association) in 1990. John was an active member of Dickinson First United Methodist Church, the 55+ Club, and was an usher at The Grand 1894 Opera House for a number of years.
John is survived by his wife Arthur Pervis Caulfield of Dickinson; his son Keith, wife Mitzie and their six children, Carly; Holly; Emily, husband Lars Doucet, and daughter Ella; Cody and wife Taylor; Bonnie and husband Shay Cheever; and Betsy; daughter Kathy Anne; daughter Margie, husband Jim Berry and their four children, Jimmy and son JR; Jennifer; Michael; and Melissa and husband Troy Willett; daughter Mona Maillard and sons Brian and Kyle; and son Bill Rusk and son Jason.
He is survived by one sister, Mary Francis Robinson and preceded in death by his parents, Fred Hagerman Caulfield, Sr., Ethel Maye Briggs Caulfield, and his brothers, Fred Jr., Charles, and Calvin.
John Caulfield was a Freemason for many years achieving a level of the 32nd degree. He was a member of Lodge 306 in Fort Monroe, Virginia.
If ever anyone asked what he needed, he would just smile and say, "time and a few kind words"; given enough of both they will fill the hole he left in our hearts.
In lieu of flowers, the family requests that donations be made to one or more of the following organizations:
• Chireno Lower Cemetery
PO Box 62, Chireno, TX 75937
• Hallmark Hospice
1120 NASA Parkway, Suite 340A, Houston, TX 77058
• Honor Flight [honorflight.org]
The family would like to thank Hallmark Hospice for the loving care and compassion they provided.
Visitation at Crowder Funeral Home in Dickinson from 5-7pm, Friday, August 14th. Memorial service at First United Methodist Church in Dickinson at 10am, Saturday, August 15th.