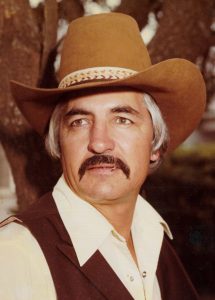 John Aaron Cannon, 82, of La Marque passed away on Tuesday, June 20, 2023 in Texas City. He was born on October 19, 1940 to John and Nancy Cannon in Laredo, Texas. The doctor that delivered him said that he could've been enlisted straight into the army because of his size. He was raised in Mirando City and Hebbronville. After attending St. Mary's University in San Antonio, he was inducted into their baseball Hall of Fame. One of his baseball highlights was pitching 22 innings in one day after which he and his dad drove to Laredo, to attend Pat's High School Prom. He made it just in time for the last dance. He was also invited to fly to Mexico City to try out for a major league team after being spotted by a scout.
He was an avid hunter, fisherman, and golfer. No one spun a story like he did and he had no problem telling on himself and his mishaps. He also didn't mind pointing out anyone else's!  As a constant joker, he never forgot a story. However, he was rarely able to finish his story because he would get so tickled while telling it. His storytelling skills were a key asset to his successful career in sales.
He is preceded in death by his parents, sisters; Nancy Akers and LaRue Anderson and brother in law; Bill Akers. John is survived by his wife of 60 years, Patricia Cannon, daughters; Cindy Freeman (Buddy) and Nicole Gomez (Robert), sons; Danny Cannon (Corie) and Kyle Cannon, sister; Sue Jo Vollmering (Gary), eight grandchildren; Casey Freeman, Randi Salinas, Erin Gonzalez, Rene Gonzalez, Cole Cannon, Dallis Cannon, Chase Cannon and Caden Cannon, 11 great grandchildren and numerous nieces and nephews.
A memorial visitation will be held at Crowder Funeral Home in La Marque on Monday, June 26, 2023 from 3-6pm.
In lieu of flowers, the family asks you to please share a donation with their favorite charity: St. Jude's Children's Hospital (https://www.stjude.org/donate/donate-to-st-jude.html?sc_icid=header-btn-donate-now).
The family is planning a graveside gathering in Hebbronville, TX at a later date.