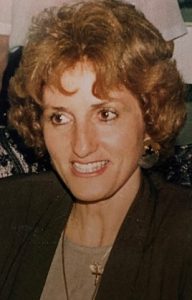 REVISED OBITUARY Johanne DesMarais Deely (63) passed away peacefully, surrounded by her family at home on March 4, 2020.
She is survived by her husband of 41 years, Edward Jr., and their children (spouse, and grandchildren), Sarah Biernbaum, 37, (LJ, Julia, Logan); Matthew, 35; Rebecca, 33.
Johanne is the daughter of Fleur-Ange and Jean-Paul Desmarais; the tenth of twelve children, born in Frelighsburg, Quebec, Canada, on June 30, 1956. Johanne moved from Quebec to south Florida and became a naturalized US citizen in 1993. She was pre-deceased by her mother and father, sisters Therese, Danielle, and brothers Gilles, Luc. The surviving members of her family include sisters Marie Therrien and Roseline Curran; brothers Paul, Yves, Michel, Andre and Jean; their spouses; a sister in-law; and many nieces and nephews.
Johanne was diagnosed with a degenerative neuropathy associated with cerebral ataxia and Parkinson's, for nearly 30 years she was determined not to let her life be limited by the progressive effects of her disease.
She and her "Eddie" married in 1978; Johanne raised a growing family, worked part-time as she pursued a college degree. In 2000 she earned a Bachelor of Science degree in Finance with honors from Florida Atlantic University in Boca Raton Florida.
Throughout her life Johanne volunteered in school mentoring and counseling programs; she was recognized for her work at the "Listen to Children" program supported by the Mental Health Association of Broward County (Florida), and with the "D÷v÷dends School Volunteer Program" in Seminole County (Florida). After moving to the Clear Lake area Johanne volunteered in an adult learning to read program with the United Way of Greater Houston. She continued to participate in weekly church services and in a home bible study small group.
For nearly 8 ½ years she was supported and comforted by Maria, her dedicated caretaker and friend. Her compassionate care supported Johanne in every way. Together they enjoyed daily walks through Nassau Bay, Johanne in her wheelchair and Ginger, her very possessive terrier, on her leash. Maria has made a lasting and loving impression on all of Johanne's family.
Johanne's faith in Divine healing and her spiritual strength offered her eternal hope of wellness. She greeted each day as a new beginning and seemed to never tire of the day-to-day routine her life had become.
Her Eddie lived their vows completely, she was the love of his life, his best friend, confidant, sounding board, walking buddy and traveling companion. Johanne was very proud of her children and admired the strong traits they possess. She knows they are equipped to carry on. She lived life unconditionally, taught us to be compassionate. By her example she demonstrated how to give time and talent freely. Her life made an indelible mark on those who love and know her.
A memorial service originally scheduled for March 21, 2020, has been postponed, a future date shall be announced.