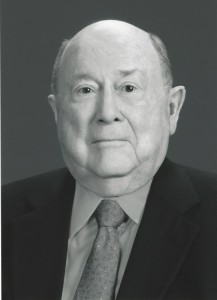 Joe Mac Parsley was born on December 3, 1928 in Olney, Texas where he was raised by his parents Eulis and Neely Parsley.  He went on to graduate from Olney High School as the Valedictorian of the Class of 1946.  After graduating from the small North Texas town, Joe traveled south to Austin where he attended college at the University of Texas. While attending college, he was also a part of the United States Naval Reserves. In 1951, he received his Bachelor of Science degree in Petroleum Engineering.
Upon graduation, Joe moved to Midland, Texas and began working in the oilfield industry as a petroleum engineer. In 1966, Joe and his partner Howard Parker founded Parker & Parsley Petroleum Company with a handshake.  With that handshake Joe and his partner were able to build a strong company that valued people.  In 1984 the company sold and the foundation that was laid down would later become Pioneer Natural Resources.
March 31, 2000 Joe married Lucy York White of Midland, Texas.  They moved to Kemah, Texas in 2003 and spent the last 12 years enjoying time with their family on Clear Lake.
Joe Parsley's impact on the oil industry and the people around him is evident in the awards and accomplishments that he received throughout his life.  He was a member of the Phi Kappa Si Fraternity and received their Business Service Award. He was recognized as a Distinguished Engineering Graduate from UT Austin in 2003.  He also established an engineering scholarship benefitting engineering students from the Permian Basin. Joe was also a member of the Chancellors Council at the University of Texas and on the Board of Visitors at McDonald's Observatory.  In 2015, Joe received the Top Hand Award from the PBPA in Midland and was also inducted into the Petroleum Hall of Fame.  This year he was also awarded the Distinguished Graduate in Petroleum Engineering from the University of Texas.  He remained a very influential part of the oil industry and was a 10% shareholder in Parsley Industries.
Joe was a great teacher and mentor.  His fairness was admired by family, friends, and colleagues.  He had the ability to talk to people on any level and had a way of putting people at ease.  He was an avid chess player and liked to play golf.  He hit a hole-in-one at the Midland Country Club.   Joe had an incredible sense of humor with the most infectious laugh.  It was a laugh that made everyone around him smile.  He loved his family and he loved watching his grandchildren and great grandchildren play. He was loved deeply by his family and will be greatly missed.  Joe Parsley passed away on October 30, 2015 in Nassau Bay, Texas.
He is survived by his wife Lucy Parsley of Kemah, Texas; 2 daughters Jan Parsley (Dallas, Texas) and Lyn Maxwell (Fort Worth, TX); 3 step sons Philip York(League City, TX), Grady White (Devine, TX) and Bobby White (Granbury, TX).  Joe had 9 grandchildren: Bryan Sheffield (Austin, TX), Cassandra Almog(Plano, TX), Hannah Maxwell(Warwick, NY), Camden & Cadence White (Devine, TX), Kyle York(League City, TX), and Brice, Baker, & Britt White (Granbury, TX); and 4 great grandchildren: Hugh & India Sheffield, David Almog, and Max Rabdau.
Joe is preceded in death by his parents Eulis Clarence and Neely McCarson Parsley.
A memorial service will be held at 1pm, on Saturday November 7, 2015 at the First Baptist Church in Midland, Texas.