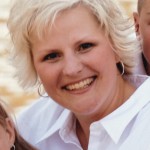 Jodie Karen Clark, 43, of League City, Texas formerly of Anchorage, Alaska passed away on March 6, 2014.
She was born December 26, 1970, in Craig, Colorado, daughter of Roger Lowry and Charles and Jean Bailey.
She is survived by her husband Matt Clark, and their children: Katie, Emmy, Tanner and Hayden; sisters: Susan Floyd and husband Jerry, Audra Frew and husband Spencer; brothers: Obe Lowry, Jeremy Lowry and wife Kayce; father and mother in law: Patrick and wife Peggy Clark.
Visitation will be held on Friday, March 7, 2014, from 7:00 pm to 8:30 pm at The Church of Jesus Christ of Latter Day Saints, 505 Deseret Dr. Friendswood, Texas 77546. Funeral Service will be Saturday, March 8, 2014, 1:30 pm, The Church of Jesus Christ of Latter Day Saints, Bishop Craig Hurley will be officiating. Interment to follow at Confederate Cemetery, 110 Cemetery Rd Alvin, Texas 77511.
Pallebearers: Tanner Clark, Hayden Clark, Jeremy Lowry, Obe Lowry, Teegan Clark, Jared Clark, Jerry Floyd and Lyle Morrison.