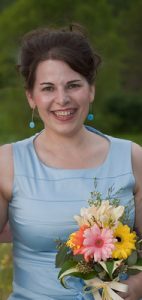 Jodi Elizabeth Larson 1975-2020, may she rest in peace.
Jodi Elizabeth Larson, 44, originally of Forest Lake, MN passed away in Houston, TX on June 16, 2020 of an ailment of the heart. She is survived by husband Ziad Qureshi, mother Carol, father Jerrell, sister Kristine (Kevin) Jones, three nieces and two nephews, extended family, and friends. She was predeceased by mother-in-law Nuzhat Qureshi, uncles Ralph Knapp and Kenneth Knapp, nephews Jeff Knapp and Kevin Knapp, and four grandparents.
Jodi held a BA in History Summa Cum Laude from the University of Minnesota (2007) and an MA in History and Museum Studies from Tufts University (2010). She was an inductee in the Phi Beta Kappa and Phi Theta Epsilon Honors Societies. In her career as an historian, interpreter, and museum professional, Jodi brought history and culture to life for museum visitors around the world. An accomplished artist in multiple media, particularly Scherenschnitte paper-cutting, Jodi taught art workshops for adults and children opening the world of art to everyone. Via her co-founded consultancy Museums Unbound, Jodi served in countries throughout the world, including international initiatives for the U.S. Department of State. She was a powerful advocate for accessibility, producing educational programming for everyone regardless of age, education, or disability.
In addition to her work and art, Jodi maintained friendships beyond number. She will be remembered for her boisterous laugh, boundless energy, and ability to connect and converse easily in any situation. Generous with time, skills, and knowledge, Jodi empowered all those around her even as she held them to a high standard.
Jodi was unabashedly herself. She refused nicknames (even online), swore by solid-colored clothing, and confidently spoke her mind. Personally prioritizing autism and depression awareness, Jodi advocated for neurodiversity and mental health. She opposed bigotry and injustice in all forms and challenged everyone in her orbit to do the same. Fighting for social equality and the well-being of others was like breathing to Jodi, and she fought with all her heart.
Jodi Larson once said, "I was so good at being me, I went pro; a professional Jodi." There can be no better summation of the widely varied and fully lived life of this beloved wife, daughter, sister, aunt, mentor, colleague, artist, inventor of Supergame, and dear friend.
Out of respect for the health and safety of loved ones, memorial services will be scheduled in 2021.