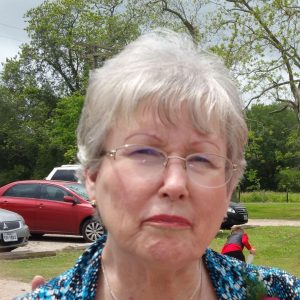 Joanna Joy King (63) of Alvin, Texas, passed away on the evening of Thursday, February 2, 2017. She was born in Galveston, Texas on December 26, 1953 to Charles and Anna Harris. Formerly of Texas City, Joanna lived in Alvin for the past eight years and was a member of the Daughters of the Revolution.
Joanna is preceded in death by her mother and father. She is survived by her loving husband; Roy G. King, four sons; Conan R. King and wife Stephanie of Alvin, Sean A. King of Texas City, Benjamin D. King and wife Sarah of Alvin, and Elric M. King of Texas City, three sisters; Regina Haley and husband Mel, Becky Colley, and Dolores Fielder, one brother; Michael R. Harris, and nine grandchildren; Connor, Cheyenne, C.J., Hailey, Doyle, Kaydance-Mariah, Athena, Samantha and Wyatt.
A visitation will be held on Thursday, February 9, 2017 from 10:00am to 1:00pm at the James Crowder Funeral Home in La Marque. A service will begin at 1:00pm at James Crowder Funeral Home in La Marque, with Pastor Tim Franklin officiating.