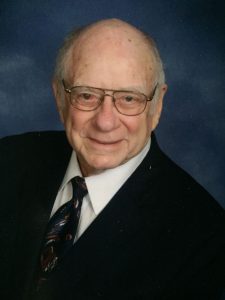 Jim (James) McBride, 87, long time resident of Dickinson and Galveston County passed away July 17, 2017. Jim was born March 11, 1930 in Corpus Christi, TX and grew up in Realitos, TX the youngest of 8 children of Esther & Gerald McBride.
Jim was a 1954 Aeronautical Engineering graduate of The University of Texas at Austin where met his wife Leola. They married in 1953 and Jim started his career at Convair in Ft. Worth, TX where their first three daughters were born. Jim moved his family to Houston to work for NASA in 1961. In 1965, they had their fourth daughter and established their 'forever' home in Dickinson. The phrase "Jim and the girls" was now heard often.
Jim held several positions with NASA/Johnson Space Center over the next 25 years with much of the latter part of his time working with astronaut EVA training. He retired from NASA /JSC in '86 and immediately continued his role with NASA's WETF facility as a contractor for NASA through Johnson Engineering for an additional 8 years. Jim was also a charter member and served 25 years on the Board of Directors for JSC FCU.
What Jim loved most was his family. Cherishing Jim's memory today are his wife of 64 years Leola; daughters Marilynn Gerstmann, Kathleen McBride, Sharon Hardilek (Paul) and Joanie Rincon (Danny); grandkids James Gerstmann (Julia), Amanda Collins (Clayton), Chloe McBride, Paula Hardilek (Rueben Pena), Jamie Hardilek, Sarah Hardilek, and Rebecca Smock; great grandchildren Evelyn, Elizabeth and Zachary Gerstmann; and many nieces and nephews. Jim is missed already by many close friends including his Tuesday and Sunday coffee groups, and the FWPS. He is preceded in death by his parents, 4 sisters, 3 brothers and their spouses, grandson Sean Gerstmann, and son-in-law Jerry Gerstmann.
Jim had a true heart of compassion for his community and expressed that by serving multiple terms most recently on the Board of WCID #1. He was involved many years serving on DISD's Board of Education, Dickinson City Council, Citizen's Police Academy Alumni Association, and as a volunteer for Dickinson Beautiful, a docent at the Grand Opera House in Galveston, and for multiple Galveston Historic Tour of Homes.
Much of Jim's time was spent at his church home Shrine of the True Cross Catholic Church where he served as an usher, and smoked his famous brisket for the church festival. Jim was also a 64-year member of the Knights of Columbus #3217 becoming a 4th Degree Sir Knight 4 years ago.
Jim loved gardening and tinkering in and around his garage and yard. One of his hobbies became McBride Auto Air which started with John Blalock while still with NASA and they continued on for many years beyond his NASA/JSC time. Jim and Leola were active through the 70's in dance club, bowling and both enjoyed playing bridge.
Jim and Leola traveled extensively via river boat and ocean cruises.
Visitation and Mass of Christian burial will both be held at Shrine of the True Cross Catholic Church in Dickinson, TX. Visitation will be on Wednesday July 19 6:00-8:00 p.m. with the Rosary at 7:00. The Mass of Christian Burial will take place at 11:00 a.m. on Thursday, July 20, with internment at Mount Olivet Catholic Cemetery to follow. Pallbearers will be Jim's seven grandchildren. Honorary pallbearers will be John Blalock and Jim's Tuesday and Sunday coffee groups.
In lieu of flowers, please send donations to the True Cross Catholic School (400 FM 517 E. Dickinson TX 77539); Friends of the Library (4411 Hwy 3, Dickinson TX 77539); or M.I. Lewis Center (215 FM 517 E. Dickinson TX 77539).