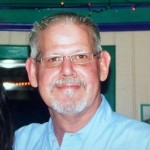 Jim "Bubba" Lee, 58, of El Lago passed away Sunday, June 29, 2014. Aubrey James Lee was born March 4, 1956 to Walter Harold Lee and Alice Joan Owens Lee in Uvalde, TX. Jim was Advertising Manager at the Texas City Sun Newspaper and a political consultant and lobbyist in Galveston and Harris counties. Jim ran the coast-wide election in Texas for Dog Racing and worked for many candidates and businesses in the region. He also worked as a lobbyist in Austin for local and national concerns. He was Advertising Director for InBetween Magazine and used his prodigious talents and sense of humor to teach the art of advertising to many account executives, including Glynda Oglesby, Carolyn Gaido, Vickie Harris and Frances Powell. At IBM, he worked and played with Steve Long and Curtiss and Suellen Brown.
He was preceded in death by his parents, one sister, Michelle Lee and two brothers, Bobby Lee and Michael Lee.
Survivors include; two sons, Derek S. and Lisa Davis Lee and Justin M. Lee and Jessica Allen; mother of Derek and Justin, Vickie Gates; two sisters, Laurie Labit and Melody Lee; six brothers, Harold Lee, Jerry Lee, Ronnie Lee, Jeffrey Lee, Mark Lee and David Lee. Also surviving are three grandchildren whom he loved dearly, Derek Z. Lee, Brandon J. Davis & Nicholas S. Lee and numerous nieces and nephews. Many thanks to Jessica Allen and Heather Culpepper for their help. Memorial Service will be held on Monday, July 7, 2014 at 6:00 p.m. at the First Baptist Church, 5400 FM 646 South, Santa Fe, Texas. Now Jim's hearty laugh will ring through the ages. He will be missed.