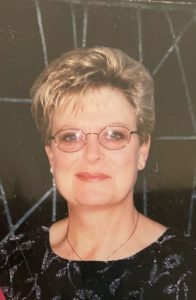 Jewel Amanda Cullison (73) of Texas City, Texas, passed away peacefully at her home on Thursday, May 18, 2023. She was born in Texas City on November 15, 1949 to Lucy Belle and Robert Lee Colston. Jewel was a lifelong resident of Texas City and graduated from Texas City High School in 1968. She worked in Documentation Control for Union Carbide and Dow Chemical for 35 years. Jewel retired in April 2020 during the COVID-19 crisis.
She is preceded in death by her father: Robert Lee Colston, Sr., sister: Anita Colston, and brother: Jimmy Colston. She is survived by her mother; Lucy Belle (Colston) Martin, husband; James E. Cullison, daughters; Carrie Latimer (Steve Bullock), and Lisa Kocourek (John), siblings:  Robert Colston (Alma), Wanda Dufrene (Marshall), and Tracy Colston; and two grandchildren: Chloe Kocourek and Ian Kocourek.
Jewel was a Girls Fast-Pitch Softball coach for her daughters (Carrie & Lisa). As an avid bowler, Jewel was trained as a USBC Bronze Level Bowling Coach. She participated in numerous WIBC, ABC & USBC local, state & national bowling tournaments. Jewel's bowling accomplishments include Mainland USBC Hall of Fame, Mainland USBC Bowler of the Year, League Champion, WIBC Texas State Bowling Tournament Championship Team (1st Place). Jewel received a plaque for her participation in 25 consecutive USBC National Bowling Tournaments. She loved the Houston Astros, attended Spring Training, and many, many Astros games (as a season ticket holder) with family and friends. Jewel enjoyed traveling with her husband, family and friends throughout the United States and Internationally. She was able to visit 36 states in the continental United States, Aruba, Antiqua, Bahamas, Canada, Costa Rica, Dominican Republic, and Mexico in her travels.
A Celebration of Life will be held in Jewel's honor on Saturday, June 3, 2023 from 4:00pm – 7:00pm, at the James Crowder Funeral Home in La Marque.