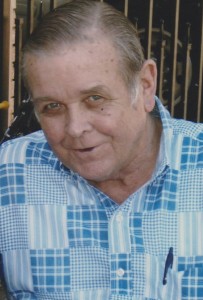 Jessie "Mike" Gilliam, 80, passed away on July 14, 2016 in Pasadena, Texas. He was born on March 25, 1936 in Mission, Texas to William Jennings Gilliam and Effie Smith-Gilliam. Mike was preceded in death by his wife Gwendolyn Gilliam in 2001 and is survived by his sons, Mark and Billy, daughters in law, Jennifer and Jennifer, grandchildren, Chris, Courtney, Greyson, Luke, Kelli, Matthew and Garrett.
Mike came to Houston at an early age from Medina, Texas and settled in Harrisburg. He and his brothers worked for the Houston Post. They were the best in the business. Always the entrepreneur, real estate, vending and playing poker have been good to him, and  not necessarily in that order! Mike had a wide range of friends. His smile and a kind word for everyone has endeared him to many. We are thankful to his caregivers in his final days, Debra, Dana and Don.
A Visitation will be held on Sunday, July 17, 2016 from 6:00 – 8:00 pm at Crowder Funeral Home – Webster, Texas. Funeral Services will follow on Monday, July 18, 2016 at 10:00 am at Crowder Funeral Home, Webster, Texas. Interment will be at Mt. Olivet Catholic Cemetery, Dickinson, Texas.