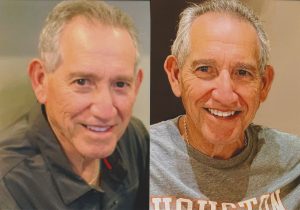 Jesse Joe Contreras, 78, passed away on Friday, December 30, 2022, in Taylor Lake Village, Texas.  He was born on November 10, 1944, in San Marcos, Texas; the third son of Alfonso Contreras and Lucia Garza Contreras.
Jesse is survived by his wife of 52 years, Diana Gonzalez Contreras, his son, Christopher Contreras, his daughter, Vanessa Matallana and his son-in-law, Cesar Matallana. He is also survived by twin granddaughters, Isabella and Mya Contreras, grandson, Evan Matallana and step grandsons Jonathan Matallana and Tristan Matallana. Jesse's surviving siblings are sister, Linda Gutierrez, brothers, Al, John, and Charles Contreras. He was preceded in death by his, parents and brothers Edward and George Contreras.
Jesse was a 1963 graduate of San Marcos High School where he excelled and lettered in several sports. Jesse earned a Bachelor of Science in Mathematics and Physics from Texas State University, a Master of Science in Mathematics and Physics from Texas A&M Kingsville, and a Master of Business Administration from the University of Houston Clear Lake.
Jesse's career at NASA's Johnson Space Center spanned 36 years. While at NASA he was selected as a fellowship recipient and attended Syracuse University's Maxwell School of Business. During his early years at NASA, Jesse worked several positions as a Systems Engineer primarily with the Space Shuttle. Later in his career he was Program Control Manager for Space and Life Science and when he retired in December 2010, he was division Chief Manager of the Cost Estimating Office.
Jesse had a passion for family, especially his grandchildren. He was active in every aspect of their lives especially sports and academics. You would find him at all his grandchildren's sporting events and academic achievement awards programs. Most vacations taken by the Contreras/Matallana families usually included every family member.
Jesse will be sorely missed as he left a footprint in so many people's lives.
On Friday, January 6, 2023, at 1:00 pm a Funeral Mass will be held at St. Paul the Apostle Catholic Church, 18223 Point Lookout Drive, Nassau Bay, TX 77058. Those wishing to make a memorial donation in Jesse's memory may do so to: Shriner's Children's Hospital, Donor Development suite 523, 815 Market Street, Galveston, TX 77539.