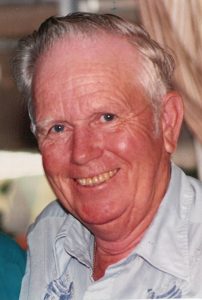 Jerry Roma "Red" Thorp started a new journey on Saturday, June 8, 2019.  Born May 25, 1930 in Celeste, Texas, he moved to La Marque, Texas in 1964.  He then relocated to Santa Fe, Texas living there for 18 years where he enjoyed the country life, especially his cows!   After all Jerry was raised on a farm of cotton-pickin, hay-bailin, corn-huskin, tractor-ridin, row-hoein, hard-poughin, hole-diggin, fence-mendin, hog-sloppin, sheep-shearin, chicken-chasin, egg-gatherin, cow-milkin, butter-churnin, flag-wavin, hard-livin, family-lovin.
He was a machinist, woodworker, and an inventor, having created a lap desk for his child's schoolwork.  Jerry also made the city's paper for his engineered wagon wheels that turned with lights at the end of the driveway at Christmastime.  He was an avid camper who enjoyed boating, barbequing, watching football and baseball.  Talented in construction, Jerry built multiple structures, including his home, and designed a specialized trailer to hold the family's motorbikes.  He loved tinkering with things and exploring outside.  He had a grand time dancing, especially the jitter-bug, and spending time with friends and family.  His skill set was endless and not to mention, those gleaming, beautiful blue eyes that captured the hearts of many.  Let's not forget his infamous word, "outfit" —and that chicken-shit grin!
Jerry traveled across the world working on packing machines for Mira-Pak, Inc., Keebler, and Frito-Lay for several decades.  He retired from ISP Technologies Inc., formerly known as GAF Corp, after 17½ years of employment and was a member of the International Association of Machinists and Aerospace Workers.
Jerry was preceded in death by his parents Estelle and Alton Simms; his loving wife of 53 years Wynona Yvonne, seven siblings; his sons Jerry Michael, Private Ricky Lynn, Donald Ray "Biggie"; his daughter Sheila Marie; son-in-law Thomas Ray Linton, Jr.  He is survived by brother, Willie, his sister Frances Walls; daughters Diane Marceaux and husband Curley "Pookie", and Jessica Linton; sons, Ronald Jay and wife Julie and Jerry Lee "Junior"; grandchildren, Kendal Jordan and husband Rusty, Kenny Cram and wife Debbie, Christopher Thorp and Ashley Thorp; great grandchildren, Kelsey Coutorie, Dariane Cram, Kallen Cram, Kayden Thorp and Kai Thorp.  And he will also be greatly missed by numerous nieces, nephews and friends.
Please join us to celebrate his legacy.  Visitation with family is Friday, June 14, 2019 from 6:00-8:00 PM at the Crowder Funeral Home in La Marque, Texas.  Services will be held on Saturday, June 15 at 1:00 PM with Pastor Mark Robinson officiating, followed by burial at Forest Park East Cemetery in Webster, Texas.
Pallbearers will be Robert Blanchard, Zachary Garcia, Rusty Jordan, Charles Pannell, Frank Petrash and Joey Smith.
Special thanks to Traditions Hospice of South Houston.