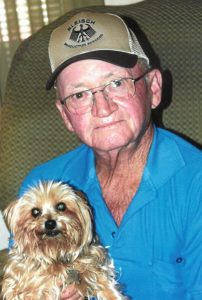 Jerry Don Houk, 80, of Matagorda, Texas passed from this life and joined his beloved wife Glyn in their heavenly home on Friday, November 23, 2018. He was born in Durant, Oklahoma on June 24, 1938 and became a (lifetime) member of the Pipe Fitters Local 211 on September 13, 1957.
JD was a man devoted to working hard and loving his family. He is deeply missed by his family and friends left here on this earth.
A memorial service honoring and celebrating JD's life will be held March 8, 2019 at Crowder Funeral Home in La Marque, TX at 2:00 pm with Chaplain Billy Williams officiating. A private burial will follow at Forest Park East in Webster, Texas.
He was preceded in death by his wife of 31 years, Glyn Davis Houk, son Richard Houk, mother Rosalee Rice Houk and father Claude Cecil Houk.
He is survived by one son and three daughters, Jerry Lynn (Lisa), Dava Tucker (Terry), Melony Abbot (Ricky) and Monica Durrett (fiance' Bobby), one sister, JoAn Boston along with nieces, nephews, numerous grandchildren and great grandchildren.
"The family would like to thank the nurses and staff at Bayou Pines Care Center for taking wonderful care of our Dad."
Our comfort is found in knowing we will see you again one day soon.
"For God so loved the world that he gave his one and only son, that whoever believes in him shall not perish but have eternal life." John 3:16