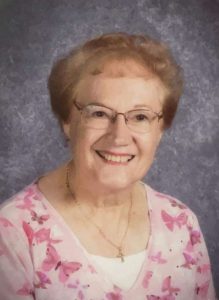 Jerry Ann (Webb) Phelps passed away on Wednesday September 15 2021 at Memorial Hermann Southeast in Houston, TX. She was born April 27 1938 in Ingleside TX to Willis Tom Webb Sr. and Anna Louse Collins Webb. She was a family member of Agape Church in Pasadena TX and lived in South Houston TX for over 50 years. Jerry Ann retired with PISD and K-Mart in Pasadena TX also at Pueblos church and school.
Jerry Ann is preceded in death by her parents, husband Thomas Wayne Phelps Sr., sons Todd Andrew Phelps Sr., Toby Dwayne Phelps and Tracy Charles Phelps, sister Billie Louise Webb Doss and husband Edward Lee Doss Sr., brother Willis Tom Webb Jr and wife Virginia McKay Webb, granddaughter Andrea Phelps. She is survived by her son Thomas Wayne Phelps Jr., daughter Terri LeAnn Phelps and son Trevor Leroy Phelps, spiritual daughter (adopted) Connie Dominguez Shaw; sisters Patricia Irene Webb Phelps and husband Perry Lee Phelps, Linda Gay Webb Doss husband Aaron Clifford Doss Sr., brother Rodger Lewis Webb Sr. and wife Marry Webb. Granddaughters that reside in Texas: Crystal Carlton, Brandy Driggers, Nichole Phelps, Kelody Phelps, Grandson Steven Phelps. Granddaughters who reside in Tennessee: Juliana Phelps-Jackson, Alexis Phelps, grandson Todd Andrew Phelps Jr. And granddaughter Laura Dunn who resides in Pennsylvania' with 18 Great grandchildren and one on the way.
Visitation will be held Tuesday, September 21, 2021 from 5pm to 7pm at the James Crowder Funeral Home in La Marque TX. Graveside Service will be held at 10:00am on Wednesday, September 22, 2021 at Galveston Memorial Park Cemetery in Hitchcock TX.