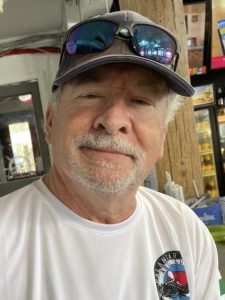 Jed Anthony Newsom, 63, of Jamaica Beach, TX, passed away on Friday, December 16, 2022. Jed was born in Houston, TX, on April 28, 1959, to Patricia Mocek and Daniel Newsom. A great day as Jed shared his mother's birthday. Each year they called each other earlier and earlier in the morning to be the first to wish the other a happy birthday. Jed grew up in Houston and graduated from Lamar High School. Jed also grew up on the farm of his grandparents in Caldwell, TX. He rode motorcycles there and raced the trains to the crossing.
Jed recently retired from BMW in Katy, TX where he had worked for more than 20 years. He enjoyed the life of retirement and was often working in the yard or fishing on his boat in the bay. He loved to ride the golf cart around the neighborhood and to the beach. Jed especially loved the holidays with the decorations, lights, and of course, family time.
Jed was charming, witty, and quick. He kept everyone laughing with his stories. He was also a great cook and an amazing grill master. He loved motorcycles and attended the Lonestar Rally each year. His love of country music is well known by his family and friends. To end the day, Jed liked to have a drink on the porch or at the bar he built under the house.
Jed is predeceased by his parents. Jed is survived by his wife Melinda, and their children: Tiffany Newsom of Richmond; TX, Evan Martin-McKamie of Austin, TX; Jennifer Holmes of Houston, TX; Julia DeBenedictis and her husband Frank of Hertogenbosch, The Netherlands; Emily Martin-McKamie of Houston, TX; Erica Velez and her wife Diana of Gray, Maine; and Ethan Martin-McKamie of Webster, Tx; Jed's sisters Cindy King and her husband Lesley of Caldwell, TX; and Kim Sheppard of Bowie, TX; three grandchildren whom he loved dearly, and so many nieces, nephews, cousins, aunts, and uncles.
A memorial service for Jed will be held on Wednesday, December 21, 2022, at 11AM, St. Michael's Episcopal Church, 1601 Lake Rd., La Marque, TX, 77568. Arrangements are under the care of the James Crowder Funeral Home in La Marque.
In lieu of flowers, please consider donating to the Gulf Center for Sea Turtle Research Foundation (seaturtlecenterfoundation.com).
Jed was the best husband, father, Poppie, uncle, and Captain of our boat.