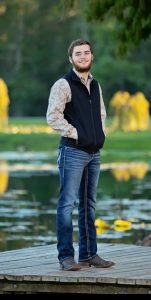 Jayson Thomas Mumme, 20, a life long resident of Pearland, TX passed away November 6, 2023 in Pearland, TX. He was born July 18, 2003 in Corpus Christi, TX. Jayson joined the Pearland R.O.T.C. 2018-2021 and worked for Chick-Fil-A. He planned to sign up to serve his country in the U.S. Army in July of 2024.
Jayson had a love for family, especially his younger sisters Jessica and Jenna, in life he always was able to make a joke to cheer up a bad situation, he also had a passion for fast cars and motorcycles
During his time at Chick-Fil-A, he rose through the ranks to be Kitchen Director. All of the employees reporting to him thought of him as a strong and fair leader and the entire team loved him.
He had a competitive love of life which showed from the time he was young until he passed. Starting with BMX racing, and then to Karate, Jiu Jitsu, football, and gaining rank of Battalion Commander ROTC as well as receiving Cadet of the Year. Always striving to be the best that he could be.
He was well loved and will be truly missed
He is preceded in death by his grandfather, Neal Markhart and grandfather, Tommy Mumme.
He leaves behind to cherish his memories, mother, Lisa Mumme, husband Robert Pfaff; father, Shawn Mumme, wife Stacy Mumme; sisters: Jessica Mumme, Jenna Mumme, Caressa Haines, husband Jamie, Hannah Graves, and Madisen-Graves; brother, Christopher Vanhuis; nieces and nephew: Easton Rendon, River Haines, and Piper Graves; grandmother, Teddy Markhart, husband Toby Mann; grandparents, Steve and Jamie Epps; girlfriend, Perla Gallegos.
There will be a visitation from 12:00 p.m. to 12:45 p.m. Saturday, November 11, 2023 with a Celebration of Life to follow at 1:00 p.m.
Family request that in lieu of flowers donations be made to, Wounded Warrior Project, P.O. Box 758516, Topeka. Kansas 66675, 855-448-3997, www.support.woundedwarriorproject.org/