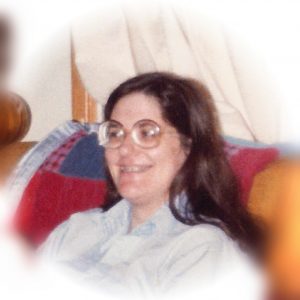 Janet Potter Lardas, aged 59, lost her battle against cancer on January 10, 2018. She died surrounded by her three sons, while holding the hand of her husband of 40 years.
Janet was born May 4, 1958 in Ann Arbor, Michigan. Her parents were William H. and Gertrude B. Potter.
She met Mark Nicholas Lardas while both were in the same high school, started dating while in college at the University of Michigan and married on May 7, 1977. While not born in Texas, both got here as soon as they could, in 1979 when Mark took an engineering job on the then-new Space Shuttle program. She soon took a job supporting the Shuttle program as a mechanical assembler. She built four experiments which flew aboard LDEF, becoming the only member of her family to get something into space.
Having accomplished that, she left the program to have and raise three sons, Nicholas, William and Benjamin with her husband Mark. She transitioned from mother to educator, homeschooling her three sons. All three went on to become successful engineers launching off the educational foundation she provided.
She was a talented and creative individualand an avid gardener, whose activities included woodworking, quilting, cooking, needlepoint, and all manner of knitting and crocheting, leaving an enduring legacy fo quilts and knit work for all of her loved ones to remember her by.
Janet was a loving wife a devoted mother, and a caring friend. She was never happier than when she could make others happy.
Janet was preceded in death by her mother, Gertrude Jane Potter. She is survived by her husband, Mark Lardas, her father William Henkel Potter, her brother Paul William Potter, her three sons, Nicholas Kyle Lardas, William Mark Lardas, and Benjamin John Lardas, her daughter-in-law Pilar Mondragon Lardas, and numerous cousins, and in-laws. Janet was hoping to hold her first grandchild in July. Her relatives and friends will miss her deeply.
A visitation was held from 5:00 to 8:00 pm Friday January 12, 2018 at Crower Funeral Home in Webster Texas. A funeral service was held at St. John the Theologian Greek Orthodox Church at 10:00 am on Saturday January 13, 2018 followed by interment at Mt Olivet Cemetery in Dickinson, Texas.