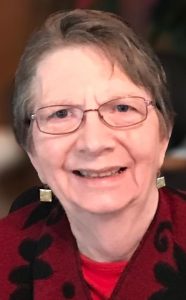 Jane K. Hibbetts passed away on Sunday, October 22, 2023, at the age of 82 in League City, Texas.  Jane was born and raised in St. Louis, Missouri, graduating from Ladue High School in 1958.  She then attended Southern Methodist University (SMU) where she studied Social Science, earning her bachelor's degree in 1962.  She often joked that she majored in introductory courses, however her studies aligned with her lifelong love for learning about a wide variety of topics and reading about people's lives and experiences.  She retained much of what she learned, and there was no matching her breadth of knowledge, which became quite evident when playing trivia games or watching Jeopardy with her.
While attending SMU, she met Carl "Corky" Hibbetts, and they married in 1962.  Over the next 16 years they had three children and lived in various locations including Texas, Ohio, New York, and Illinois.  In 1978 they settled in Houston, where Jane loved working as a librarian for the Houston Public Library.   In 1993, after they had both retired, Jane and Corky moved to North Zulch, Texas, to the farm where he grew up and enjoyed living there until his passing in 2009.  Jane then moved back to Houston to be near her grandchildren as they grew up.  Throughout the years Jane maintained her passion for reading and helping to make books accessible to others, and often found herself volunteering at libraries in her community.
Jane was diagnosed with Multiple Sclerosis in the early 1990s, and while the disease affected her physically, it never hindered her spirit, love for life, and sense of joy in spending time with family and friends.  She cherished her time traveling the country with Corky, and when she could no longer travel very far, she enjoyed hearing about others' adventures and experiencing them through pictures.
Jane was preceded in death by her husband, Corky, and her parents, Theodore and Verna Krauss.  She is survived by her son and daughter-in-law Michael and Heather Hibbetts; son Scott Hibbetts; daughter and daughter-in-law Kristen and Jan Hibbetts; grandchildren Andrew, Julia and Charlotte Hibbetts; sisters Carol Gast and Sue Dewald; sister-in-law Barbara Wilson; and many beloved family members and friends.  Her later years were especially blessed by the love, support, and care provided by Martha Emerson, and also by the folks at Home Matters – all of whom became like family to her too.
In lieu of flowers, please consider contributing to the National MS Society, PO Box #91891, Washington, D.C. 20090-1891 or sponsoring an individual participating in an MS fundraising event such as the Bike MS: Texas MS 150.  Jane was committed to the idea of others learning from her condition.  She participated in annual scientific surveys since her diagnosis, and wanted to ensure that MS scientists have the opportunity to learn from her after her passing.  This wish is being fulfilled, after which she will be cremated, and a Celebration of Life will be planned for a later date. To be informed when the plans for the Celebration of Life are finalized, please e-mail janehibbettsservice@gmail.com .