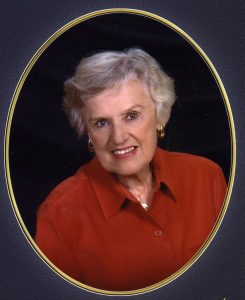 Jane Keller Hime, 90, of Dickinson, passed away September 15, 2017, in Pasadena, Texas.  Jane was born January 19, 1927, to Ross J. and Marion Reed Keller in Galveston, Texas. She was employed by Security Savings and Loan of Dickinson for 30 years, retiring as Sr. Vice President in 1988.  She then joined the staff of Dickinson Public Library and after 16 years retired 2004.  She was a member of the DAR; volunteer for several local civic organizations over the years and a member of Holy Trinity Episcopal Church since 1952 serving in various ministries as well as the vestry.
Jane was preceded in death by her parents, sisters Betty Keller Gibbs and Marion Keller Cavin and dear and close companion R. D. Holcomb.  She is survived by son John A. Hime; daughter Linda R. Duncan; Son, James L. Hime; daughter Deborah M. Hime; grandchildren, great-grandchildren and many nieces and nephews.
A visitation in her honor will be held 5:00 – 7:00 pm, Thursday, September 21, 2017, at Crowder Funeral Home, 1645 E. Main Street, League City, with funeral services 10:00 am, Friday, September 22, 2017, Holy Trinity Episcopal Church, 4613 TX-3, Dickinson, under the direction of Crowder Funeral Home Dickinson.  Interment will follow at Galveston Memorial Park, Hitchcock, TX.
In lieu of flowers, memorials may be made to Holy Trinity Episcopal Church, 4613 TX-3, Dickinson, TX 77539.