James Walker "Jim" Hunter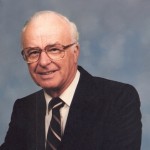 James Walker "Jim" Hunter was born in Princeton, West Virginia on December 3, 1921 and died in Houston, Texas on July 21, 2014, he was 92 years old. Jim was pre-deceased by his wife of 41 years Bette Casebolt Hunter. He is survived by his three daughters and sons-in-law: Carolyn Hunter Mitchell (David), Sherry Hunter Jones (Douglas), and Natalie Hunter Benson (Steve), six grandchildren: Adam Sinclair, Brian Mitchell, Lindsay Sinclair, Jennifer Mitchell, Meredith Kopal, and Hunter Benson and by two sisters Evelyn Rardin and Barbara Matheny. Jim graduated with a Bachelor of Science in Mechanical Engineering from Georgia Tech University in Atlanta Georgia. He was a member of the Delta Tau Delta fraternity, and a member of the Delta Rho Delta Theta honorary engineering fraternity. Jim was a professional engineer registered in Texas and West Virginia. During World War II he was a flight engineer on a B-29 and participated in 23 combat missions over Japan. His rank was First Lieutenant. He retired as President of Mid – Valley Inc. Engineers and Contractors and was an elder in the Presbyterian Church (USA).
A memorial service in honor of Jim Hunter will be held Friday, August 8, 2014 at 11:00 a.m., First Presbyterian Church, 215 Fm 517 Rd W, Dickinson, Texas.
In lieu of flowers donations can be made to: First Presbyterian Church, Dickinson, Texas or to the Alzheimer's Association.