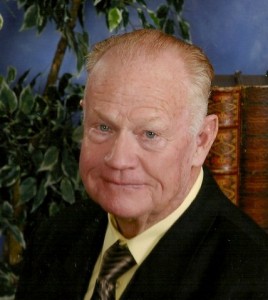 James Robert McCain, Sr., 79, of Dickinson, Texas passed away January 7, 2016, surrounded by his family. James was born April 12, 1936, to Jared Camp and Minnie Anderson in East Bernard, Texas and raised by Minnie and his step-father Jerome McCain. He retired from Union Carbide Corporation after over thirty years of service in various duties. James was also a loyal member of the First Baptist Church of Dickinson for many years. James was preceded in death by his parents; and son, Martin Duane McCain.
James is survived by his loving wife of 61 years, Yvette McCain; daughters, Valarie Joy Symons and husband Randall, and Melody Patelis; son, James Robert "Robby" McCain and wife Karen; brother, Jerome "Butch" McCain and wife Nelda; eight grandchildren and seven great grandchildren.
A memorial service in his honor will be held 11:00 am, Saturday, January 16, 2016 at the First Baptist Church Dickinson, 2504 44th St, Dickinson, TX.