James Redus "Jimbeezy" Negrotto,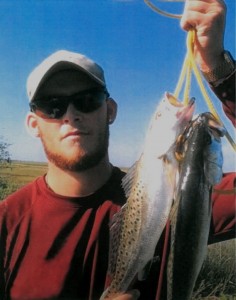 James Redus "Jimbeezy" Negrotto, 23, of Texas City passed away on July 24, 2016 in Texas City, Texas.  He was born May 16, 1993 in Galveston, Texas to Daniel James and Jeanette Marie Negrotto.
Jimmy attended Texas City High School and graduated from O'Connell High School in 2011.  He served proudly in the US Army Infantry where he was stationed at JBLM Lewis-McCord in Tacoma, Washington. There he made close connections, friendships and truly made a lasting impression on all who met him. Jimmy lived all his life in Galveston County where his love of fishing was nurtured. He served as a fishing guide to anyone willing to accompany him in his adventures.  Sharing this passion of fishing with his brother, Jaxon, was his duty and his pride. His love of the outdoors was not limited to the water, he also found his greatest joy in the outdoors while spending time with his family and friends. Jimmy also loved big "toys"- the louder the better, including his pick-up truck and motorcycles. Dirt bikes and four-wheelers were his favorite mode of transportation… mud required.
He is preceded in death by his Aunt Kelli Herd and Uncle Lloyd O'Rourke.
He is survived by his parents Daniel and Jeanette Negrotto; brother Jaxon Pierre Negrotto; grandparents: Michael Herd, Maria Escamilla, Redus and Cheryl Day; great grandmothers:  Rose O'Rourke and Kathryn Herd; aunt Stephanie Garcia and cousin Blake Hudson, aunt and uncle Scott and Victoria Arrington and cousins Suzanne and Jacob; aunt and uncle Curtis and Jacquelyn Svoboda and cousins Emily, Bryce and Aubree; uncle and aunt Brandon and Laura Ellender and cousin Sadie; uncle Chad Negrotto and cousin Gage. And numbers other family and friends.
Honorary Pallbearers will be Jacob Arrington, Lorenzo Diaz, Matt Fueyo, Dominic Gagne, Stephanie Garcia, Ryan Harper, Chad Negrotto, Jaxon Negrotto and all of his Army and Biker family.
Our Jimbeezy spent his short time on earth doing the things that he loved and in the company of those he loved. His absence leaves a tremendous void, but with God's blessing we will embrace him again!
A visitation will be on Saturday, July 30, 2016 from 12Noon – 2:00pm at the Crowder Funeral Home in Dickinson, with the Funeral Service to follow at 2:00pm.
In lieu of flowers, please consider a donation to https://www.garysinisefoundation.org/   Gary Sinise Foundation P.O. Box 50008 Studio City, CA 91614-5001