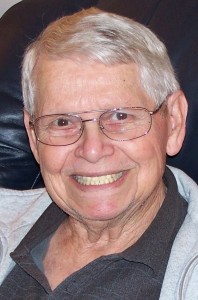 James Mitchell Smith Sr. was born December 7, 1925 in Roanoke, VA and passed away August 3, 2015. Mr. Smith served in the U.S Navy from 1944- 1946, he was a Motor Machinists Mate 2nd class in WWII in the Pacific Theatre. Mr. Smith attended Washington University and joined the Sigma Alpha Epsilon Fraternity, he received his bachelor's degree in 1950. He worked as an Inspector in the Airport Engineering office for the City of Houston up until retirement.
Mr. Smith is preceded in death by his parents; James and Rena Smith; wife Bennie Marie Smith; daughter, Emily Smith and son, James Mitchell Smith, Jr.
He leaves behind his daughter, Martita Smith; sister, Byra Bradford and 2 grandchildren: James Mitchell Smith, III and Jacquelyn Smith.
Mr. Smith requested that no memorials or flowers are wished, rather just a remembrance in generous and random acts of kindness.