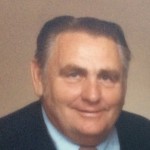 James Lee Hardilek, 81, resident of Dickinson, Texas, passed away September 2, 2014 in Webster, Texas. He was born March 15, 1933 in Houston, Texas to parents Frank and Jaunice Hardilek.
He graduated in 1951 from Reagan High School in Houston, Texas.
Jim served in the U.S. Army during the Korean War.
He was a third generation air-conditioning repairman. He owned and operated Jim Hardilek Air Conditioning Company from 1965-1993. He was President of the Gator Booster Club during the 1970's. He was City Councilman of Dickinson from 91-93 He coached Little League Baseball, refereed high school football, and high school basketball and college basketball.
Jim "Big Daddy" is survived by his wife of sixty years LaNelle Hardilek; sons, James L. Hardilek II and wife Carolyn, Paul Hardilek and wife Sharon; sister, Margaret Dean and husband Allen; grandchildren, Jimmy Hardilek and wife Marni, Kristen Arellano and husband Chris, Paula Hardilek (Rueben), Jamie Hardilek, and Sarah Hardilek; great-grandchildren, Gage, Tyson, Bryson, Reagan, and Reece; and numerous other family members.
Visitation will be held from 4:30 pm-6 pm Tuesday, September 9, 2014 with a service beginning at 6 pm at Crowder Funeral Home in Dickinson, Texas. Interment will be private.
In lieu of flowers, memorial donations may be made to the charity of your choice.