James Joseph Dobranich, Jr.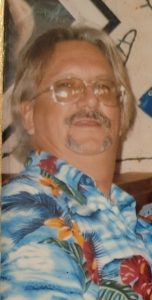 James Joseph Dobranich, Jr., age 72, passed from this life on September 3, 2023. He was born in Bellevue, Nebraska on July 31, 1951 to parents, James Joseph Dobranich, Sr. and Edith Faye (Cron) Dobranich.
James had a career as an aircraft mechanic. He made many friends at Hobby airport.
He proudly served his country in the United States Air Force in the Vietnam war era.
James is preceded in death by his parents and a sister, Marie Talbott.
He leaves behind to treasure his memory, his loving wife, Janet Dobranich; son, Chris B. Swiger and wife Candace; sisters, Kathy Trujillo and husband, Fidel, Sharon Harmon and husband, Steve and Diana Vogel and husband, Mike and four grandsons, Clayton, Brayden, Jordon and Gage. Also many nieces and nephews.
In his honor, a memorial service is planned for Friday, September 15, 2023 at 2:00pm at Crowder Funeral Home in Dickinson, Texas.