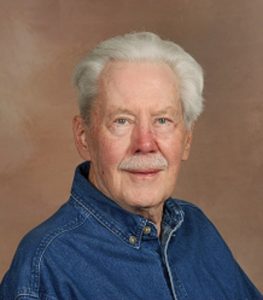 James E. Westom (84) passed away peacefully on January 25, 2017 after a long battle with multiple cancers.  Jim was born on June 5th, 1932 in Minot, ND to Edward Westom and Elva Gilderhus . While stationed at Tinker Air Force base, he met Sue Ann Teague. Sue and Jim were married on August 12, 1957 and began their family.
Jim Graduated from High School in Havre, Montana and received his pre-aeronautical engineering certificate from Northern Montana College. Jim joined the Airforce through the Aviation Cadets Program where he served as a forward air controller, flying the LT6G in the Korean Conflict. He earned a distinguished flying cross (with other medals) for his combat missions in the Vietnam War where he flew the F-105 Thunder Chief and the F100 Super saber. Jim received his Bachelor's in general education from the University of Omaha, NE. Jim was an instructor at Ellis Air Force Base and George Air Force Base for the F-4E "Phantom II".  Jim retired from the Air Force in June 1972. Over his life span, Jim flew25 different types of aircrafts.
Jim briefly worked as a consolidated foods and environmentalist engineer before taking a position with Rockwell National Aviation Company, working in the Shuttle Aviation Integrated Laboratory with NASA. Jim often referred to himself as a "ground astronaut" in this position. He reported in his time at SAIL he had spent between 48,000-50,000 space shuttle orbiter simulator time in the 15 years he worked there. Jim retired from Rockwell in 1989 after Sue became ill and was diagnosed with cardiomyopathy.
Jim was a lifetime learner as well as a lover of nature and was always active, whether camping, site seeing, hunting or just spending time with his family. As a child Jim enjoyed pheasant and duck-hunting with his father, uncles and cocker spaniel "Bug". Jim was actively involved in music in both his school and air force years, learning to play the clarinet, saxophone, organ, guitar, and the violin. Jim was proud to play the clarinet in the 1952 Inauguration in Washington D.C., with his Air Force band. Jim reported he even participated in a dance band in High School. Jim became a Christian as a child but with age his relationship with Jesus Christ became the center of his life and relationships.
After Sue passed Jim spent some time traveling with his dogs but soon found a soul mate in Judy and was married December 27, 2000. Judy and Jim spent much time traveling, camping, and staying active in the Gloria Dei Lutheran Church. Jim is survived by: Wife Judith Heuer Westom; Sons Brad and Kristian Westom of ID and Chad Westom of NV; Daughter Kelly and Tim Daywitt of NE, step daughters Cindy Green of TN, Carrie Ganter of WI, and Kim Owens of TX with 20 grandchildren and 9 great grandchildren.
Visitation will be at Crowder Funeral Home, Clear Lake, Sunday Feb. 26.2017 from 2 to 4 pm. Memorial Service will be held at Gloria Dei Lutheran Church at 11:00 am Monday Feb. 27, 2017. Interment will be at Forest Park Cemetery at 2pm.
Memorials may be made to the American Cancer Society or the American Heart Association.