James "Jim" Robert McGinnis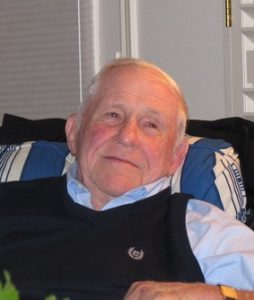 James "Jim" Robert McGinnis, 90, of Houston, Texas, passed away, Thursday, February 23, 2017 surrounded by his family.
A celebration of life service will be held at 11:00 am, Friday, March 3th, at St. Clare of Assisi Catholic Church, 3131 El Dorado Blvd, Houston, TX 77059. Burial will follow at Forest Park Cemetery in Webster, TX. Friends may visit from 6:00pm until 8:00 p.m., Thursday, March 2rd, at the Crowder Funeral Home, Webster, TX.
Jim was born August, 1926 in Hammond, Indiana to Florence and James McGinnis. Jim was raised in Wellsville, NY and graduated from Wellsville High School in 1944. Immediately upon graduation, Jim enlisted in the US Navy and served in both the Atlantic and Pacific.  Jim attended Fordham University and graduated in 1950. Upon graduation, he was recalled to serve in the Korean War.  Upon completion of his military service, Jim married the former Elizabeth "Betty" Ann Sullivan in New York City on February 22, 1952.  Jim and Betty moved to Houston, TX after their wedding where Jim started his career in the Petrochemical industry. Over the next 36 years, Jim worked in many roles during his career including Denka Chemical Co.  Jim retired in 1988 and became an avid golfer and loved his time on the golf course with friends.  Jim and Betty enjoyed travel during their retirement, including a trip to Dad's beloved Ireland.  Jim also loved cooking and was always a wonderful host.  Jim's love of Notre Dame football, sense of humor, sarcasm and generous heart will be missed by all who knew and loved him.
Jim and Betty raised five children and were very active and involved in the lives of their five grandchildren and one great grandchild. Some of the grandchildren's favorite memories are of Jim dressing up as Santa Claus, swinging with Grandpa in the tree swings and their morning trips to the donut shop.
Jim is survived by his wife of 65 years, daughter, Nancy McGinnis, Sons, Brian, Kevin and Tim.  Daughter in law, Stephanie McGinnis and grandchildren and great grandchild, Jennifer, Jill Resendez, Audrey, Nathan, Sam and Mason Resendez.  Jim was preceded in death by his son Patrick McGinnis, parents, brother, Ray McGinnis and sisters, Anna Mae Arnold, Florence Durke, and Marcella Richardson.