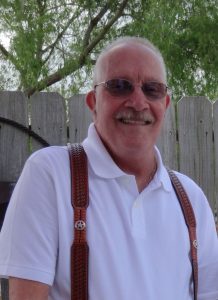 James Hardy Powell, Jr., 63, of Bacliff, TX, passed away January 22, 2017, in Texas City. Jimmy was born June 23, 1953 to Janet and James Hardy Powell, Sr., in Houston, TX. He was a longtime business owner and operator of Superheat Air Balance in South Houston and Bacliff and retired from Valero where he worked as a sales clerk after selling his business. He was involved with and a proud supporter of the Pasadena Livestock Show and Rodeo, the San Jacinto Day Foundation, and the Pasadena Strawberry Festival. Jimmy was a proud member of the NRA. Jimmy was preceded in death by his father.
Jimmy is survived by his mother Janet W. Powell; daughters Priscilla A. Archer and husband Darren, and Michelle R. Tompkins and husband Todd; son James Aaron Malek and wife Shelly; sisters Jane Putnam and husband Kenneth Stansell, and JoAnne Belvin and husband Kenneth; six grandchildren; and numerous Nieces, Nephews, Great-Nieces, and Great Nephews. He was loved by many and never met a stranger.
A visitation in his honor will be held 5:00 – 8:00 pm, Thursday, January 26, 2017 with funeral services 1:00 pm, Friday, January 27, 2017, at Crowder Funeral Home Chapel, Dickinson, TX.