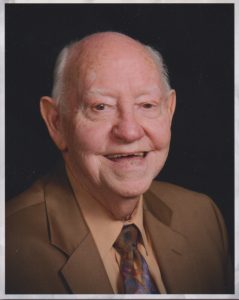 Jim White, age 90, passed away on September 2nd at his home in Houston Texas. He was born on May 12, 1931 in Paris, Texas to Thomas and Mattie White. Jim is survived by his: wife, Jan; daughter, Vicky; sons, David, Mike, and Jimmy; and sister Zonna. He is also survived by: 9 grandchildren; 10 great grandchildren; and numerous family members and friends.
When his nation called, he answered by joining the Army reserves during the Korean war. He earned degrees in theology from Baptist Bible College and in mathematics from Arlington A&M. Jim worked as a computer programmer and project manager for NASA affiliated space projects. He had a passion for music and the Bible and loved to watch wheel of fortune and work sudoku puzzles.
A Funeral Service will be held on Saturday, September 11, 2021 at 11:00 am at Crowder Funeral Home, 111 E. Medical Blvd. Webster, Texas 77598. Interment at Forest Park East Cemetery will follow at a later date.