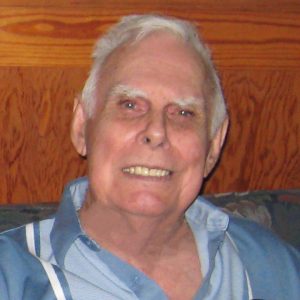 JAMES EDWARD HAIRGROVE, 92, left this world on March 13, 2018 in Houston, TX.  He was born on February 21, 1926 on the family farm in the Buena Vista Community near Timpson, TX, to Wilburn N. and Pearl Burns Hairgrove.  He was the oldest of seven children and attended his first few years of school in Tenaha, TX, moving to the Buena Vista School for 3rd through 8th grades and graduating from Timpson High School in 1943. After a one-year deferment for being the oldest son on a working farm, James Edward served in the US Army in WWII from January 1945 until November 1946.  He trained to invade Japan by land, leaving port the same day the first atomic bomb was dropped.  He became part of the occupation forces on Okinawa, where he guarded Japanese prisoners who he said were just as relieved the war was over as he was.
Upon returning home, James Edward attended classes at Stephen F. Austin State University, the University of Texas at Austin and the University of Houston where he majored in Electrical Engineering while working for Houston Lighting & Power, where he remained for 15 years.
After being introduced by friends from their respective jobs, Jim (as he was known in Houston) and Grace Rehrig (originally of Easton, PA) were married on March 1, 1957 in Houston and were blessed with two children, Kay Ann (1958) and Ronald James (1961). They resided in southeast Houston until moving to Pearland in the early 1970's to a new home that Jim designed, built and lived in until moving to assisted living in 2016.
Jim became a Master Electrician and Owner of Certified Electric, an electrical contracting company that specialized in residential and small commercial projects.  He and Grace ran the company together for over twenty years before selling the business.  In retirement, Jim began remodeling his weekend home at Lake Murvaul, where the family has spent many happy times together.  His other hobbies included photography and woodworking.
He is survived by his daughter Kay Hairgrove Krenek and husband Wilfred of Houston, TX, daughter-in-law Susan Flournoy Hairgrove and grandson James Colton Hairgrove of Tenaha, TX, sisters Wilma Culp of Lampasas, TX and Frances McIntyre of Timpson, TX, brothers Franklin Hairgrove and Bill Hairgrove, both of Timpson, TX as well as numerous nieces, nephews and cousins.
He was preceded in death by his parents, his wife Grace, their son Ronald James Hairgrove of Tenaha, TX, his brother Van Hairgrove of Center, TX and sister JoNell Young of Marshall, TX.
A visitation will be held at Crowder's Funeral Home in Pearland, TX on Wednesday, March 14 from 5:00-8:00 PM.  A second visitation will be held at Taylor Funeral Home in Timpson, TX on Friday, March 16 from 5:00-7:00 PM followed by a funeral service on Saturday, March 17 at 10:00 AM, also at Taylor Funeral Home. Internment will follow at Buena Vista Cemetery.  Special appreciation to Maria Perales of Pearland, TX, who assisted Jim over the last 18 years and to the caring staff of Fairbanks Court Assisted Living in Houston.
In lieu of flowers, please consider a donation to his family's Historic Texas Cemetery, established in 1851 and recognized by the Texas Historical Commission.
Buena Vista Cemetery
c/o Frances McIntyre
3442 CR 4916
Timpson TX  75975-9336