Jame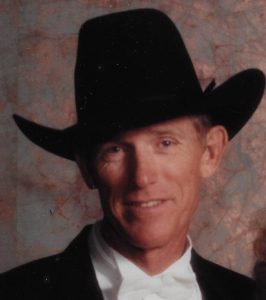 s Douglas Densman was born to Glen and Daphna Densman on August 9, 1941, in Sebastian, TX.  As a child, his family was regularly on the move throughout Texas. Jim graduated from Mission High School and then played football at West Texas State and McMurry Universities.
Jim married Patricia Murphy in 1963 and became a first-time father to his son Mike on October 14, 1966. He avoided the Vietnam draft by entering the Wichita Falls Police Training School, also in 1966. He served as a police officer in Wichita Falls and in Dallas.  After leaving the Dallas Police Department, he turned his love of driving into a career as a truck driver.
On May 11, 1973, Jim became a stepdad when he married Linda, his wife of 42 years. Jim and Linda were avid travelers during their marriage, and gave their children, grandchildren, and nieces a wide range of experiences. Their travels included Colorado, Florida, Washington DC, New Orleans, and other destinations. Jim could regularly be seen on the field as a coach or in the stands as a spectator for the kids' sporting events and performances. As a father and a grandfather, Jim was always one to hold a crying baby, take a restless toddler for a walk, or lead a game of touch football or a bout of leg wrestling. The quickest way to anger Jim was to harm an animal or to speak harshly to a child.
Jim was an active member of Hurst Christian Church and later Cypress Creek Christian Church. He served as a deacon and volunteered at the Boys and Girls Country of Houston and for CanCare in Cypress. He is a 15+ year cancer survivor and loved to build things from wood, listen to music, attend live concerts and theater, and "fix" things in a uniquely Jim Densman sort of way – Rube Goldberg had nothing on Jim!
After retirement, Jim and Linda moved to Cypress to be near kids and grandkids.  His toughest job was as the primary caregiver to Linda during her two bouts with breast cancer. In 2016, recently widowed Jim took five of his six grandchildren on a cross country RV trip to California. He spent his last years at Brookdale independent living community where he met new friends including Jerrie MacDonald who was a loving companion to him for several years.
Jim is survived by son Mike Densman and wife DeAnna, stepson Vince Burkett and wife Sally, stepdaughter Kelli Glenn and husband Chris, brother Clifford Densman and wife Wendy, grandchildren Nicholas, Michael, Matthew, Isabella, Ryan, and Austin, brother-in-law Frank Owens, sisters-in-law Brenda Densman, Vickie White, and Donna Adams, nieces Sarah Thomas, Alyson Hosea, Jennifer Anderson, Dixie Rumsey, La Lena Carpenter, Daphna Owens, Brittany Roes, and Chelsey Heller, nephews Dallas Densman and Kevin Owens, and numerous dear friends including his beloved friend Jerrie MacDonald. He is preceded in death by his wife and parents, and by his brothers Darrell and Glen Dale Densman and sister Glenda Owens.
Services will be held at Clear Lake Presbyterian Church on April 22nd at 10:00. In lieu of flowers, the family requests donations be made to Boys and Girls Country of Hockley, TX or to a charity of your choice.