Jacqueline "Jackie" Barnes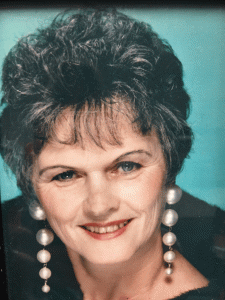 Jacqueline "Jackie" Barnes, 76, of Santa Fe, passed away September 9, 2016, at home. She was born November 21, 1939, in Galveston, Texas. Jackie was a loving wife and mother of four. She worked as a temporary secretary throughout the years until she retired. She coached girls' softball with a passion to make every girl on the team to be the best they could be. She was also a P.E. Aide in 1976, at Santa Fe Elementary. Playing sports herself, while in school gave her a passion to be there with each of her children and grandchildren to support them while playing the sport(s) of their choice. She really shared the love of volleyball with each of her girls and granddaughter Haley. She loved spending time at their lake house with husband Roy, family and friends over the last 30 years. She was a longtime bowler of Galveston and Texas City since 1960 until May of 2001.
She was preceded in death by her loving husband of 44 years, Roy P. Barnes Jr., by her parents James and Eleanor Lunn of Galveston, sister Eleanor Parsons of La Marque, sister Audrey Best of Nevada and brother James "Jimmy" Lunn of Galveston and granddaughter Tiffanie M. Tacquard.  She is survived by her four children, Roy Barnes of Dallas, Robin Rose of La Marque and husband Norman, Nancy Tacquard of Santa Fe and husband Greg, Tracy Henderson of League City and husband Tommy, and brother-in-law Herby Parsons of La Marque and numerous nieces, nephews and cousins. Seven grandchildren Eddie Barnes, Candie Simpson Lagrone, Shawna Barnes Lockwood, Greg Tacquard Jr., Jason Tacquard, Bradley Henderson,  and Haley Henderson, along with 11 great grandchildren with a twelfth on the way, due in January.
Visitation will be Tuesday, September 13, 2016 from 5:00 pm to 7:00 pm at James Crowder Funeral Home, La Marque. Funeral services will be Wednesday, September 14, 2016 at 10:00 am, at the funeral home, with Pastor Steve F. O'Donohoe officiating. Graveside services to follow at Galveston Memorial Park Cemetery, in Hitchcock, Texas. Pallbearers Pete Nicolaidis, Larry Nicolaidis, Bradley Henderson, Greg Tacquard Jr., Jason Tacquard and Eddie Barnes.
Jackie was greatly loved and will be truly missed!
Memorials may be made to the American Cancer Society and/or the Alzheimer's Association.