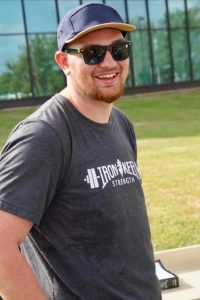 Jacob Andrew Pepe (Jake), 21, passed away in a motorcycle accident on October 31, 2019 in Houston, TX. Jake was born to Darla and Bernie Pepe on January 8, 1998 in Cypress, TX. He is survived by his loving parents; his brothers David (Anaïs) Pepe, Matthew (Jennifer) Pepe and his nieces and nephews Soraya, Maxence, Maggie, Max and Makenna. Jake is also survived by his loving girlfriend, Lindsey Miller.
Jake was a student of the University of Houston-Clear Lake where he studied ITEC and Cyber Security. He worked as an orientation leader, a member of the Campus Activities Board and as the founder of the ESports Club. He had a passion for rugby and was a member of BARC (Bay Area Rugby Club) where he played for four years. During this time, he also worked at HEB. Jake enjoyed playing guitar, bass and tuba; gaming and cooking; and he loved all sports, in particular rock climbing, golfing, skateboarding, snowboarding and bowling. Jake always put his whole heart into whatever he was doing.
Jake would always make you smile, feel loved and like part of the family.
The Pepe family will receive guests at a Celebration Memorial to be held on Tuesday, November 5, 2019 from 7:00pm to 9:00pm at the University of Houston-Clear Lake, in the Garden Room, 2700 Bay Area Blvd, Houston, TX 77058.
In lieu of flowers, please donate to UHCL Campus Activity Board or Bay Area Rugby Club Youth Program.
Jake,
You Are Loved
Missed
And Will
Forever Remain in Our Hearts