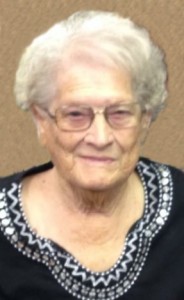 Iva Nell Shelton, 79 of Texas City passed away Sunday, December 13, 2015 in Texas City, Texas. Mrs. Shelton was born September 3, 1936 in Shelbyville, Texas, the daughter of Iva Coe and Pluma Reedy Coe. She was a resident of Texas City for over sixty years. Iva Nell loved bingo, gambling with her friend, Iva Nell Owens and spending time with her family. She loved pajama parties with Margie Hammond and spending her weekends in Orange with her niece, Peggy Caraway. Iva Nell was preceded in death by her husband Charles Roy Shelton, her parents and her sister Hazel Weeks. She is survived by her two daughters and sons-in-law, Cindy Brown and husband Buddy, Linda Duncan and husband Bill; two sisters, Bobbie Allmon and Marie Bittick; four grandchildren Jeff Shelton, Monica Garza, Michelle Garza and Billy Brown; her twelve great grandchildren, one great-great grandchild, numerous nieces and nephews
Visitation will be Tuesday, December 15, 2015 from 5:00 p.m. to 8:00 p.m. at the James Crowder Funeral Home, La Marque. Funeral Services will be 2:00 p.m. Wednesday, December 16, 2015 in the Chapel of the James Crowder Funeral Home in La Marque, with Pastor Wayne Clement, officiating. Interment will follow at Forest Park East in Webster, Texas.
Pallbearers will be Jay Garza, Michael Garza, Jacob Garza, Randy Allmon, Tim Jordan, and Jeff Shelton.