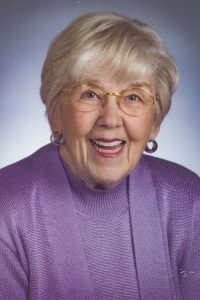 Ingeborg W. Stevenson, known as Ing to her family and friends, passed away on March 15, 2022, in League City, Texas.  She would have celebrated her 100th birthday on April 27, 2022.
Born in Hanover, Germany, she and her parents crossed the Atlantic aboard the Cunard line in 1927. Like all immigrants of the time, they were processed into the United States through Ellis Island, New York. Eventually settling in Ripon, Wisconsin, where her parents owned a tailoring and dry-cleaning business.
As salutatorian of the 1940 class of Ripon High School, Ing excelled in debate, mathematics, and music. She graduated from the University of Wisconsin as a pre-med major with the dream of becoming a doctor. She began as one of fifteen women admitted to an accelerated program at UW Medical School.
In 1943, after completing 2 years of the program, Ing and her undergraduate parasitology instructor, Robert Stevenson (Steve) eloped to New Orleans — a marriage that lasted 50 years. Before going off to war. Steve completed his Ph.D. and Ing decided to complete a Masters in Zoology. They were separated for 28 months while Steve served during World War II with the US Army in the South Pacific.  Shortly after returning from active duty, they moved to Salt Lake City, Utah in 1946 where Steve began his collegiate teaching career at the University of Utah teaching parasitology.
In 1948, Steve accepted a faculty position at Southwest Missouri State College (SMS) in Springfield, Missouri. Ing worked as the anatomy laboratory instructor at SMS. Later, Ing worked as a medical transcriptionist and office manager for the Department of Neonatology at Cox Medical Center.  After retiring from Cox, Ing served as a tax consultant and preparer.  She also volunteered for the Mayor's Commission on Human Rights and Public Relations, AIDS project of Southwest Missouri, FORUM, and as founding member and president of the the National Association of Investors Ozarks Council of southwest Missouri. Ing was also a member of Christ Episcopal Church and the SMS faculty wives' organization.
In 2003, Ing moved to Houston, Texas to be closer to family. She continued her life-long love of reading, weaving, music, and especially gardening.  She enjoyed the company of many neighbors and friends. When she needed more care, Ing moved to The Crossings care facility, in League City, Texas where she was lovingly nicknamed "Queen" by The Crossings staff.
Ing was predeceased in death by her husband, Robert; son, Roland; parents, Agnes and Henry; and brother, Henry and wife Elaine. She is survived by son Lowell (L.D.) (Erlinda); daughter Janice (Stanley); and son Martin (Diane) and 7 grandchildren and 12 great grandchildren.
In lieu of flowers, the family requests that contributions be sent to the Bay Area Turning Point, 210 South Walnut Street, Webster, Texas 77598, a crisis intervention center and shelter in the greater Houston-Bay Area.
A memorial service will be held
on April 23, 2022, 11:00 AM at Crowder Funeral Home, 111 East Medical Center Boulevard, Webster, Texas 77598.
Burial will be at a later date in the Springfield National Cemetery, Springfield, Missouri.