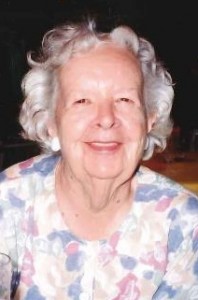 Inez May Selden Kish, beloved mother and grandmother, age 94, passed away peacefully in her sleep in Texas on April 8, 2015.
Inez was born to the late William and Lylan (Scott) Selden, February 22, 1921, in Superior, Wisconsin. Inez grew up in Billings Park in Superior, and graduated from Central High School in 1939. She then attended college and worked as an IBM Key Punch Operator at the Central Cooperative Wholesale. She had many fond memories of working at the "Co-op" and lunch with the girls, and kept many as life-long friends.
Inez "Ina Mae" married Captain Emil Kish, of Detroit, on December 31, 1952, and they made their home in Detroit and then St. Clair Shores, Michigan, where they raised two children. Inez enjoyed years of traveling, needle point, baking, and especially caring for her family. In later years she moved to Texas to live with her daughter, and continued to enjoy seeing many beautiful places as well as visits back "Up North" to see family and friends in Michigan. Inez is preceded in death by her beloved husband, Emil (February 20, 1997), and two dear brothers, Edward Selden and William Selden. She is survived by two loving children, Dr. Marilynn Kish-Molina (Mario Molina) of Seabrook, Texas and David Kish, Esq. (Julie) of New Orleans, Louisiana, four adored grandchildren, Ashley Molina of Seabrook, Texas, and Thomas, Amelia and Travis Kish of New Orleans, as well as many cherished family and friends including supportive nephew, Dennis Kish, of Port Huron, Michigan, and his daughters Denise and Maureen and families, and extraordinary family friends, Diane and David Michelson.
Inez also enjoyed genealogy and was a proud member of the National Society of the Daughters of the American Revolution, and her daughter and granddaughter are now active members in the Jane Long Chapter in Texas, following her legacy.
Visitation Saturday, April 18, 2015 10 until time of Funeral at 12pm at Kaul Funeral Home 35201 Garfield, Clinton Township, Michigan. Burial will follow at Cadillac Memorial Gardens East Cemetery in Clinton Township, Michigan, where Inez will be laid to rest with her eternal sweetheart, Emil. Inez was a kind and gentle soul, and her memory will live on in all that knew her. Special thanks for the compassionate care she received at Elmcroft Senior Living, from Hallmark Hospice, and Mainland Medical Center in Texas City, Texas.