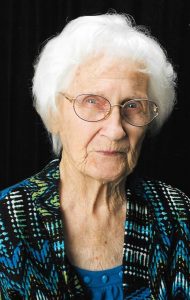 Ila Fay Martin Doyle 101 years old of League City, Texas passed away January 29, 2017. She was born August 25, 1915 in Manning, Texas. For most of her youth she lived in Colmesneil, Texas on a farm with her parents Helen Gertrude Hayes Martin and C.A. Martin, her sister Iva Jewell Martin Sturrock, her brothers E.A. Sturrock, Jack Martin, Frank Martin, Lee Martin and Moody Martin.
On July 4, 1938 she married Thomas Alton Doyle and had 4 children, Martin Durwood Doyle and wife Shirley, Frances Helen Armstrong and husband Charlie, Linda Jean Blatch and husband Howard, and Doris Evelyn Dollarhide and husband Eddie. Ila has 7 grandchildren, Denise Hinojosa and husband John, Chad Cox, Stephanie Mollett and husband Lonnie, Christy Scheider and husband Eric, Michele Doyle, Kenneth Pugh, and Kim Darrel. She has 13 great grandchildren, Cody, Patrick, Joseph, Joshua, Nathan, Elizabeth, Tishanna, Connor, Christopher, Cullen, Kelly, Katy, and Caleb,
Ila Fay has lived in League City, Texas since 1955. She and her family joined the First Baptist Church and became regular members. She has been a Christian and loved the Lord since she was a child. She worked in the baby nursery for over forty years, was in the Golly 60's group that met every week for fellowship, worship and a meal. After Dad passed away in 1958 she worked in her beauty shop to support herself and her children.
The Bible and prayer were always a part of her daily routine. She was a very loving and caring mother who did the best she could to keep her family happy and healthy. She was always ready to help anyone. She will be very missed. Her grandchildren loved to spend the night with their beloved Nana. She was never too tired to play games with them or to take walks around the neighborhood. I know she will have a special place in Heaven. We love you Mom.
The Family will receive friends on Wednesday, February 1, 2017 from 2-4:00pm at Crowder Funeral Home, 1645 East Main, League City, Texas 77573. A Ceremony will follow on Thursday at 2 o'clock at Crowder Funeral Home in League City. A Grave Side service will take place on Friday at 1:00pm at Mann Cemetery, FM 1745, Colmesneil, TX 75938.