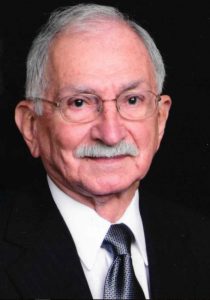 Hubert Joseph Brasseaux born July 11, 1934; died December 6, 2017 at the age of 83. He was born in Beaumont, Texas to Eldridge Joseph Brasseaux and Beulah Pearl Guidry. He was preceded in death by his parents and brother, Eldridge Joseph Brasseaux, Jr.
Hubert attended public schools in Beaumont, graduating from Beaumont High School in May 1952. He graduated from Lamar State College of Technology (now Lamar University) in May 1956 with a BS degree in Mechanical Engineering. While working at Chance Vought Aircraft in Grand Prairie, Texas; he earned a Master's Degree in Engineering (Nuclear) from Southern Methodist University in May 1962.
While attending Lamar he met and immediately after graduation married the love of his life, Shirley Ann Scherer on June 3, 1956. Hubert and Shirley enjoyed traveling, tennis, bowling, square dancing, and raising three children. They enjoyed camping as the children were growing up, showing them the wonders of the United States, in Colorado, California, Arizona, New Mexico, Washington DC., Florida, New York, Louisiana, battle fields of the Civil War, the American Revolution, and Texas. After Hubert's retirement he and Shirley enjoyed international travels and cruises.
He left Vought in June 1962 to work for the fledgling space program in Houston, Texas at the Manned Spacecraft Center; later the NASA Johnson Space Center. He joined the Propulsion and Power Division when it was formed in January of 1964. At NASA he worked on the Gemini, Apollo, and Shuttle Programs becoming one of the first five engineers to start the Shuttle Program with the "Shuttle Skunk Works" in March 1969. He worked on the Shuttle in the Propulsion and Power Division until his retirement on January 3, 1998. He was responsible for the resolution of many design issues in the propulsion systems on Shuttle.   He was Chief of the Systems Branch, responsible for all of the propulsion and power systems on the Shuttle at the time of his retirement. Hubert was the recipient of two NASA Exceptional Service Medals; and JSC's highest honor, the Certificate of Commendation.
After his retirement, Hubert's hobby became researching Shirley's and his genealogy. He is proud of his ancestry, being descended from several of the original 300 Acadian families from Nova Scotia that migrated to southern Louisiana. Hubert was a member of the Bay Area Genealogical Society, NASA National Active and Retired Federal Employees (NARFE), Carmeliters, Bay Area Orchid Society, Bay Area Bluegrass Association, Knights of Columbus (3rd Degree), and Hubert's 2nd Monday Coffee Club.
Hubert is survived by his loving wife of 61 Years, his three children; Cheryl Mehling and husband Charles; Hubert Jr. and wife Sandra; and Roger Brasseaux. He is also survived by his grandchildren Taylor Mehling, Robert Brasseaux, Ryan Brasseaux, and Sarah Brasseaux all who lovingly called him Pawpaw.
Visitation will be held at Crowder Funeral Home in Webster from 6 – 8 pm on Wednesday, December 20th, with a rosary service at 7 pm. A funeral mass will be held at St. Bernadette Catholic Church on Thursday, December 21st at 10:30 am with a reception immediately following.   Interment will be at Forest Park East Cemetery in Webster, Texas.
Memorial donations may be made in Hubert's name to Upstream Arts at UpstreamArts.org or the American Cancer Society.