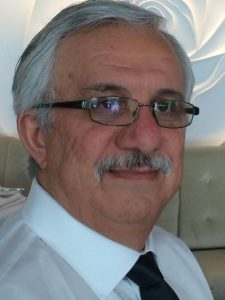 Houman Michael Shammai, 62, passed away on April 11th, 2021 in Webster, TX following a courageous 10-month battle with COVID-19. He was born on May 18th, 1958 in Tehran, Iran to Abbas Shammai & Mahin Nawabyshirazi. Mike is survived by: his wife, Simone Soileau Shammai; sons, Andrew & Alex Shammai, mother, Mahin Nawabyshirazi; sisters, Dorre Tosian & Kitty Shamai; brother, Nader Shammai; and numerous family members and friends.
Mike earned a Bachelor of Science in Chemical Engineering from the University of Louisiana at Lafayette (formerly University of Southwestern Louisiana). He proudly became a naturalized citizen of the United States of America in 1987. Following a career primarily at Baker Hughes and Shell, Mike worked as Chief Technology Officer for Nextstream Heavy Oil. During his career he traveled the world and was awarded numerous design patents.  He enjoyed his research projects with Rice University and the University of Wyoming among others. He had a passion for his family and career, and loved to cook and travel.
A memorial will be held on Wednesday, April 14th 2021 at 11am at Crowder Funeral Home in Webster, 111 E Medical Center Blvd, Webster, TX 77598. Visitation will begin at 10am before the memorial service. In lieu of flowers the family requests that those wishing to make a memorial donation in Mike's memory do so to The National Multiple Sclerosis Society, St. Jude Children's Hospital, or the University of Louisiana at Lafayette's Engineering Department.