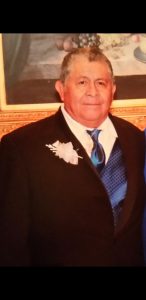 Hermenegildo G. Morales, 69, 0f League City, TX, passed away March 19, 2018, in his home surrounded by his family. Hermenegildo was born April 9, 1948, to Apolina and Paula Morales in Santa Maria Del Rio, S.L.P, Mexico. He was preceded in death by his parents.
Hermenegildo is survived by his loving wife of 37 years Mary Morales; daughters Yolanda Ortuna and husband Octavio, Amelia Martinez and husband Bernardo, and Melissa Herrera and husband Alejandro; sons Juan Morales and wife Maria, Alejandro Morales and wife Maria, Hermenegildo Morales, Jr. and wife Christina, and Julio Morales and wife Yvonne; sister Juana Santa Maria; brothers, Augustine Morales and wife Sara, Juan Morales and wife Guadalupe, and Felix Morales and wife Nena; 24 grandchildren; one great-grandchild; and numerous nieces, nephews and friends.
A visitation will be held 5:00 – 8:00 pm, Wednesday, March 21, 2018, with a rosary at 7:00 pm and funeral services 1:00 pm, Thursday, March 22, 2018, at Crowder Funeral Home Chapel, Dickinson, TX. Interment will follow at Mt. Olivet Catholic Cemetery.