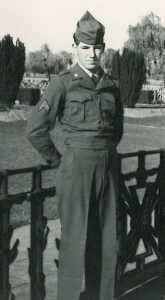 It is with great sadness that we announce the passing of our husband, father and grandfather, Herbert Val Munson at age 86, on Tuesday, January 7, 2020 in Pearland, Texas. Herbert was born and raised in Alvin, Texas.  He was the son of Marietta Davis Munson and George Munson.  Before reaching the age of 18 Herbert enlisted into the US Army, serving during the Korean war.  He completed Diesel Mechanic School while in the Army.  In the army his specialty was the artillery equipment, being able to do full maintenance as required. Other jobs in the army included digging water wells in France and setting up obstacle training courses. After he was honorably discharged, he attended the University of Houston.
Applying what he learned in the service and at U of H, Herbert could fix or build anything. This allowed him to have a long career in the automotive repair and maintenance industry.  Even though his specialty was large diesel truck engines he also knew how to work on and operate heavy equipment.
He is preceded in death by his parents Marietta Munson and George Munson, his brothers Wallace Munson, Conrad Munson, Ermine (Lucky) Rodden, and sisters Gloria Munson and Shirley Bain,
Herbert is survived by his Wife of 64 years Juanita Darlene Munson; Son Mark Munson and Mark's daughter Jessica Munson; Daughter Darlene (Bonnie), husband Michael Miller, Daughter Lisa Miller Stephens (husband Barrett Stephens) and Sarah Miller Sanchez (husband David Sanchez).  He is also survived by his sister Virginia Pape who lives in Oklahoma.  Additionally, Herbert is survived by many nieces, nephews and cousins in Louisiana, Oklahoma, and Texas.
January 10, 2020 Visitation will be held at 2:30pm and a funeral service at 3:30 at Crowder Funeral Home, 2422 E. Broadway Street, Pearland, TX 77581.
In lieu of flowers, the family asks that donations be made to the Wounded Warriors Project at    woundedwarriorproject.org or Camp Hope for veterans with PTSD at https://houston.narpm.org/camp-hope/