Herbert "Herbie" Louis Lee Parsons, Jr.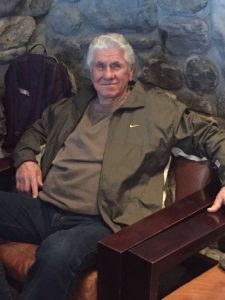 Herbert "Herbie" Louis Lee Parsons, Jr., 85, of La Marque, Texas, passed away on February 24, 2017. He was born November 11, 1931, in Galveston, Texas to parents, Herbert Louis Lee Parsons, Sr. and Gladys Marie Sanderson.
Herbie spent his childhood in his beloved Galveston where he could ride his horse, Strawberry, to the West End to hunt ducks or fish for trout and redfish, and then return and sell his catch so that he had money for a candy bar and a bottle of grape soda.  Following his retirement from Union Carbide after over 40 years of service, Herbie spent his time hunting, fishing, watching sports events and visiting his children. In his later years, Herbie's greatest joy was seeing and hearing about his grandchildren.  He recently returned from a trip to Nevada to see his newest grandson, Marshall, and his granddaughter Mia, a trip that brought him a lot of new pictures and stories.
Herbie was preceded in death by his wife of 47 years, Eleanor Lunn Parsons.  Eleanor passed away in 1999, and not a day went by without him thinking about her and missing her.
He is survived by his daughters, Lori Wilson of Sugar Land, Barbie Powers and husband Michael of Austin; sons, Larry Parsons and wife Angela of Temple, Scotty Parsons of Bayou Vista, Rick Parsons and wife Clare of Incline Village, Nevada; sister, Catherine Braddy and husband Tommy of Temple; godchild Kathy Comeaux and husband Michael of Port Bolivar; and grandchildren, Noelle Parsons, Anna Lossau and husband Luke, Kira Parsons, Skyler Wilson, Maddy Powers, Nicholas Powers, Mia Parsons, and Marshall Parsons.
Herbie was fortunate to have many caring people in his life including lifelong friends Sonny and Carla Eriksson and Beaver and Cricket Lala, and godchild/surrogate daughter Kathy Comeaux who visited him regularly and included him in their plans.
Visitation will be held Friday, March 3, 2017, from 5:00 p.m. – 8:00 p.m. at Crowder Funeral Home in Dickinson, Texas. Funeral services will be held at 10:00 a.m. Saturday, March 4, 2017, at Crowder Funeral Home in Dickinson with interment following at Hayes Grace Memorial Park in Hitchcock, Texas.
Larry Parsons, Scotty Parsons, Rick Parsons, Al "Sonny" Eriksson, Reese Elkins, Michael Powers and Nicholas Powers will serve as pallbearers. Honorary pallbearers are Julius "Beaver" Lala and Michael, Matthew, and Aaron Comeaux.