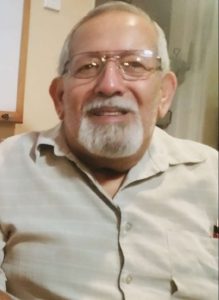 Henry Garza, Jr., 72, of Texas City passed away on Friday, August 23, 2019 in Texas City.  He was born July 27, 1947 in Galveston, Texas to Henry and Stella Garza.
Henry graduated from Ball High School in 1967; he served his Country as a United States Marine and became Cpl E-4; after returning home, he worked at Tom Ma Can's, Dr. Pepper, GISD and Moody Gardens.   He was a member of many clubs and organizations, where he loved hanging out with his friends. They were the Dickinson VFW post #6378, American Legion #554, Elks Lodge #128, and Knights of Columbus of Galveston. He also was a member of St. Mary of the Miraculous Medal Catholic Church of Texas City.
He is preceded in death by his parents.  Henry is survived by his wife, friend and soulmate Diane Trout Garza of 33 years. He leaves behind his two sons, Steven Garza and fiancée Karry Howell and Michael Garza and wife Nicole, his four grandchildren, MaKayla, Madison and Mason Garza, Darci Myers and his great grandchild Kameron Larry, sister Mary Ester Aguilar. He will be sadly missed by his fur babies Chica and Meme.
A Memorial Service will be held at Crowder Funeral Home in La Marque on Saturday, August 31, 2019 at 4:00pm with Deacon John Carrillo officiating.
Serving as Honorary Pallbearers will be the VFW Post 6378 Honor Guard.