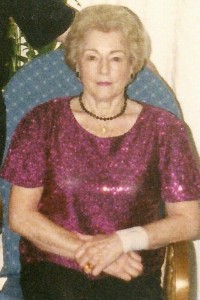 Helga Anneliese Reyna, 88, of La Marque passed away on Tuesday, July 21, 2015 in Pasadena, Texas. She was born in Rheydt, Germany to William and Katherine Grevenstuck. Helga was a lifelong resident of La Marque for over 50 years. She was a War bride coming back with Ruben after WWII. She was co-owner of Reyna's Radio & TV Shop. Helga had a love for her garden, where you could find her working all day; she also loved to do crafts, crochet and knit.
She is preceded in death by her parents and her husband Ruben Reyna. Helga is survived by her daughter and son-in-law Katie Joyce and Don Lomax; two grandchildren Katie Adkins and Jim Lomax and wife Teresa; three great-grandchildren Evan Adkins, Jordan Adkins and Ellie Lomax.
A visitation will be on Friday, July 24, 2015 from 12:00 – 2:00 at the James Crowder Funeral Home in La Marque. Funeral Service will be at 2:00pm on Friday, July 24, 2015 at the funeral home. Entombment will follow at Mt. Olivet Catholic Cemetery in Dickinson, Texas.